RBA's Kent Says Recent Aussie Dollar Drop `Helpful' to Economy
(Bloomberg) -- The Australian dollar has been buffeted by cross-currents at home and abroad, but its decline has provided some support to growth, a senior central bank official said.
"While the exchange rate is still within the relatively narrow range of the past few years, the recent depreciation is helpful at the margin given that there remains spare capacity in the economy and inflation remains below target," Reserve Bank of Australia Assistant Governor Christopher Kent said in a speech in Melbourne Friday.
The address traced the fluctuating outlook in recent months as "modest revisions" to global economic growth and inflation combined with greater attention to downside risks from central banks and investors. Kent noted local money markets switched their assessment of the next move in the cash rate to "more likely to be down than up."
The RBA last week abandoned a tightening bias in response to weaker domestic data and rising concern offshore about the trade struggle between the U.S. and China, and the latter's decelerating growth. While Australian policy makers continue to expect unemployment to grind lower and wages and inflation to pick up, the risks to that scenario are expanding.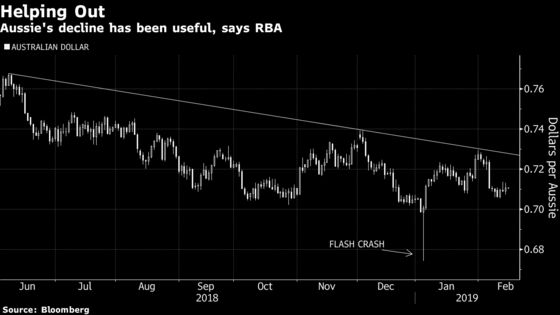 Kent, who oversees financial markets, noted that over the past couple of months the Australian dollar has dropped by about 4 percent on a trade-weighted index basis, mainly reflecting the appreciation of the yen and the renminbi, which collectively comprise nearly 40 percent of the TWI.
"The yen appreciation may have been driven by the tendency of Japanese investors to bring some of their funds back home during 'risk-off' periods in global financial markets," he said.
Kent also touched on the "flash event" in currency markets on Jan. 3 that saw the Australian dollar drop by up to 7 percent against the yen. He said that while it's difficult to draw firm conclusions, three factors likely contributed:
The liquidation of 'carry-trade' positions, notably from highly leveraged Japanese retail investor accounts
These liquidations occurred when market liquidity was "seasonally low," such that the foreign exchange market was more exposed to imbalances between buy and sell orders
Algorithmic trading strategies may have amplified the move, for example, by adding to demand for the yen as it appreciated
Kent noted that recent flash events tended to occur around this same time of day: between the close of U.S. markets and the start of Asian trading.
"Ultimately, this event did not lead to wider disruption. But the growing list of such disorderly moves in key financial markets in recent years clearly bears close watching," Kent said.