RBA's Debelle Says Threats to World Trade Are 'Significant Risk'
The Australian central bank's No. 2 official warned that the current threats to the global rules-based trading system were a major risk to both his country's economy and the world's.
Australia has been a key beneficiary of global trade, as its current account approaches its first surplus since the 1970s, Deputy Governor Guy Debelle said Tuesday in Canberra. The local currency has been able to repeatedly help the economy absorb external shocks, thanks to the large share of the country's foreign liabilities denominated in Aussie dollars, he said.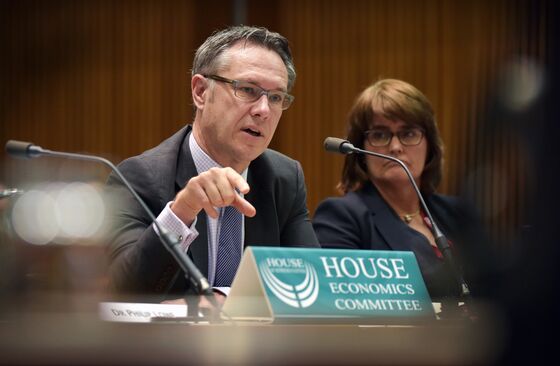 "These developments have taken place under the rules-based global trading system that has been in place for a number of decades now," Debelle said in a speech. "The current threats to the system are a significant risk to both Australia and the world."
Policy makers are on edge as a damaging tit-for-tat trade war between the U.S. and China threatens to spill over into a serious global economic downturn. The Reserve Bank undertook back-to-back rate cuts in June and July and is expected to ease further as the darkening global outlook overshadows domestic pressures.
In a question-and-answer session following the address, Debelle was asked where the likely lower bound was for the cash rate, which is currently at a record-low 1%. He replied that, as the governor has said previously, the best guide is where the U.K., Canada and the U.S. got down to.
"It was somewhere around about zero, quarter, half a percent. And so I think that probably gives us some sort of guide as to what the equivalent might be here," he said.
Asked later whether if the RBA reached 0.5%, policy makers would embark on unorthodox measures or simply stay there, Debelle signaled the former.
"If you look at where the others landed, it was somewhere quarter to half," he said. "If we are not achieving our objectives, then we have a mandate to try and achieve our objectives, which probably requires doing something rather than doing nothing for a long period of time."
Debelle's speech reflected on the extraordinary narrowing of Australia's current-account gap in recent years. Once seen as a key vulnerability -- demonstrated by the crises of other countries when their currency depreciated and foreign debt payments soared -- it's now seen as a simple reality in a country with a small savings pool and lots of investment opportunities.
Some "68% of foreign liabilities are denominated in Australian dollars, this increases to 85% after hedging," Debelle said. "The fact that the liabilities are effectively denominated in Australian dollars, while the assets are in foreign currency, does not impede the exchange rate adjustment. If anything, it actually helps the adjustment."
Debelle was also asked whether, based on the weakening currency and expectations of further interest-rate cuts, the Aussie dollar could fall back down to around 50 U.S. cents from current levels just below 70 cents.
"The currency's come down some, it may well go down further, depends partly what others do as well," he said. "The depreciation of the currency we've seen has been helpful for the macroeconomic outlook and if it would depreciate further that would also be helpful" in terms of economic growth and inflation.
"Whether it gets down as far as 50, I don't know," he said. "The best predictor of where the exchange rate is going to be tomorrow is where it is today."