RBA Returns to Trusty Old Policy Tools as Bond Vigilantes Loom
(Bloomberg) -- Having abandoned its experimental bond-yield target two days ago, the Reserve Bank of Australia is now left with the trusty old tools of policy making -- facing traders who still reckon it's behind the curve.
While Governor Philip Lowe did manage to quiet the bond market following last week's rout, he hasn't altered expectations on early interest rate rises: three remain priced in by end-2022. Now attention turns to the RBA's quarterly update of economic forecasts that will be released in Sydney on Friday.
"I find it very difficult to understand how Australia is so different from the rest of the world that we won't suffer the inflationary consequences," said Stephen Miller, an investment consultant at GSFM, an arm of Canada's CI Financial Corp., suggesting Lowe note the Federal Reserve's experience.
"He runs the risk of being more demonstrably behind the curve than the Fed has been at times over the past year and that's going to set off fresh bouts of bond market volatility," Miller said.
Lowe maintains his economy doesn't have "an inflation problem," noting "inertia" in the labor market that's holding down wages and local power prices falling when they're soaring elsewhere. Yet markets, dominated by cash from offshore, see little to set Australia apart from, say, New Zealand or Canada, which are battling rising prices by rapidly unwinding stimulus.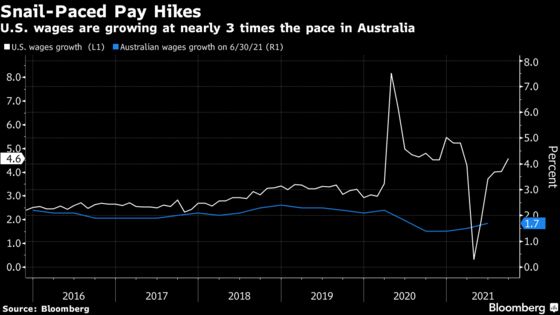 The backdrop is a global economy stuck in one of history's biggest traffic jams -- forcing central banks to retreat from their view that inflation is transitory as evidence mounts a supply chain crisis is getting worse, not better. 
Yet Lowe might have an important ally in Fed Chair Jerome Powell, who overnight announced a reduction in bond purchases while maintaining that officials can be patient on raising rates.
The RBA began tapering its own quantitative easing program in September and will review it again in mid-February. Many economists reckon Lowe will try to keep the Australian taper in sync with that of the U.S., which is expected to wrap up by mid-2022.
But it's not just markets questioning Lowe's inflation outlook, with some economists seeing a highly vaccinated Australia recovering rapidly and consumer prices accelerating accordingly. The CPI debate intensified after data last week showed underlying inflation accelerated to 2.1% in the third quarter, returning to the RBA's 2-3% target for the first time in six years.
Lowe, in Tuesday's statement, expects core inflation will be 2.25% next year and reach the target midpoint of 2.5% in 2023, opening the door to a potential rate rise. The governor had previously said that he didn't expect conditions for a hike to be met before 2024.
"With supply constraints still in play and the economy entering recovery mode, we expect underlying inflation to lift more quickly than the RBA's forecasts," said Kristina Clifton, an economist at Commonwealth Bank of Australia, the nation's largest lender. CBA expects the first RBA hike in November 2022, taking the cash rate to 0.25% from 0.1% now.