RBA Must Buy Bonds to Stave Off Stronger Aussie, Edwards Says
The Reserve Bank of Australia will need to maintain its quantitative easing program for an extended period to prevent the currency rising too high and damaging the economy's recovery, former board member John Edwards said.
"I think we are heading towards 80 U.S. cents," Edwards, now a senior fellow at the Lowy Institute, said in an interview with Bloomberg News on the release of his new book Tuesday. "It'll be awkward for us if it goes much over 80 U.S. cents and that means that the RBA has got to stay in the bond-buying business for quite a while."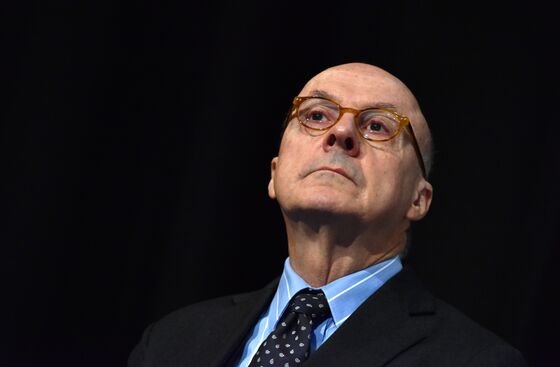 Edwards, who was principal economic adviser to Prime Minister Paul Keating from 1991-94 and sat on the RBA's board from 2011-16, highlights in "Reconstruction: Australia after COVID" some of the challenges he sees facing policy makers. He also discusses the evolving global backdrop, including the nation's deteriorating relations with China.
Australia's currency surged more than 30% from its pandemic low in 2020 to briefly touch 80 U.S. cents last month, before easing in recent weeks as the U.S. recovery and vaccination program strengthened the greenback. The RBA in November began buying longer dated bonds to try to narrow the interest-rate differential with the U.S. to keep a lid on the local currency.
Key issues the book examines:
As a result of its bond-buying program, the RBA holds about half of pandemic debt issued by the federal government, meaning it's now "inextricably tangled" in budget policy as well as monetary policy
The RBA's lack of interest-rate ammunition means fiscal policy will need to take the key role of cyclical stabilization in the economy
For the government to achieve its 2023-24 budget deficit target of 3% of gross domestic product, spending will have to fall by 8% of GDP. Fiscal policy is expected to be contractionary for a decade or more
China's economy must flourish for Australia to prosper and anything that hinders the former hurts the latter
Economic ties with Beijing will deepen and the U.S. security relationship remain central, a policy contradiction that Australia will need to manage carefully -- Japan, South Korea and Singapore face a similar balancing act -- and can't afford to simply adopt Washington's line on Beijing
Additional comments from the interview with Edwards
"It's a very big change to shift from this annual ritual of budget-making, economic and fiscal update, annual forecasts etc. to a much more active policy." "Treasury would have to go to mini-budgets and more frequent public forecasts"
"For the treasurer, it's a very major change in the political role and probably involves accepting responsibility for day-to-day economic management for which Australian treasurers have become accustomed to looking to the RBA"
"Now there's much more contemporary information to guide economic policy and that would permit more rapid changes than we've been used to"
"The unemployment problem is a very serious one and one I think will be the center of the political debate"
"In February, we returned to the same number of employed and the same number of hours worked as we had a year ago, more or less, but unemployment was 110,000 higher than it was then and we're turning off JobKeeper. Meanwhile we've dramatically reduced our unemployment target to 4.5% effectively"
"It's very difficult to combine a circumstance where the Reserve Bank has got nothing more to give with a contractionary fiscal policy if your aim is to get unemployment down to 4.5%"
"The strength of China's economy means it accounts for a large part of the strength of the East Asian economy, into which we are integrated, both through our direct trading relationship with China and through our trading relationship with Korea and Japan and Southeast Asia. So decoupling China from the rest of the world is very much against our interests"