Australia Stares Down Doves as RBA Sticks to Neutral Rate Stance
(Bloomberg) -- Australian central bank chief Philip Lowe dashed expectations of an interest-rate cut, looking through recent weakness in inflation to hitch the policy outlook to a labor market that he says remains strong.
The decision to hold the rate steady at a record-low 1.5 percent means Lowe avoids entering a general election debate late in the campaign and keeps his limited policy ammunition preserved should the economy worsen. It was the governor's first meeting where an adjustment was in play, with a swathe of economists switching to calling cuts following weak first-quarter inflation.
Lowe's assessment of pricing weakness echoed his U.S. counterpart Jerome Powell's view that "transitory" factors were partly responsible. While acknowledging "subdued inflationary pressures across much of the economy," the Reserve Bank governor cited lower housing-related costs and government efforts to ease cost-of-living pressures.
"The RBA has upped the labor market ante," said Michael Blythe, chief economist at Commonwealth Bank of Australia. "The inflation surprise in the first quarter has increased the sensitivity of policy deliberations to the direction of unemployment. Previously, we thought it would take an unemployment rate of 5.25 percent or higher to trigger a cut. Now any perceived deviation from the RBA's projections could be met with a swift response."
Markets reacted sharply: the Australian dollar climbed as much as 0.8 percent after the announcement and three-year bonds tumbled, seeing the steepest increase in yields since April 2018. Rates traders pushed back expectations for a cut, fully pricing in the first one in September, after yesterday being certain a reduction was coming in July.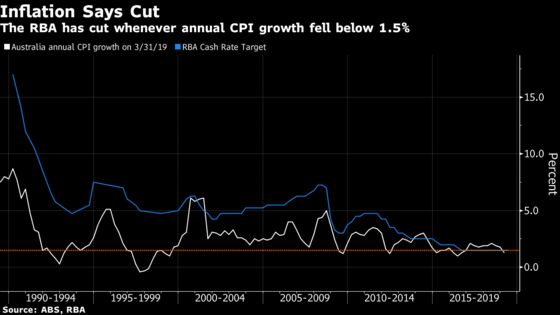 Lowe trimmed his forecast economic growth for this year by a quarter point to 2.75 percent. But he remained bullish on the labor market, describing it as "strong" and maintaining that unemployment would stay around current levels of 5 percent before falling in time to 4.75 percent.
"There has been a significant increase in employment, the vacancy rate remains high and there are reports of skills shortages in some areas," he said. "The strong employment growth over the past year or so has led to some pick-up in wages growth, which is a welcome development."
The RBA releases its quarterly update of economic forecasts Friday.
What Bloomberg's Economists Say

"The RBA held the line on rates ahead of elections later this month, but it also appeared to signal a willingness to ease should hiring momentum falter. We'd expect both investment and hiring to cool rapidly if the U.S. carries through with plans to lift tariffs on China."

-- Tamara Mast Henderson, Economist
Click here to view the piece
Lowe's assessment of the jobs market's strength and dismissal of weakening growth and inflation is somewhat at odds with his comments in the minutes of last month's meeting. Then, he said forward-looking indicators of labor demand "had been mixed in recent months," citing an easing in job advertisements while vacancies reported by employers had increased further.
"Lowe is a more hawkish governor than most appreciate, and the hurdle for easing is clearly a lot higher than it has been under previous governors," said Sally Auld, a senior strategist for interest rates at JPMorgan Chase & Co. in Sydney who had forecast a cut. "In that respect, we learnt a lot today."
She said the RBA is pushing "the flexibility of the inflation mandate close to limits," noting that for the first time ever, the five-year average of core inflation is now below 2 percent.
Like other developed nations, the RBA has been confounded by the contradictions showing up in the economy: growth slowed in the second half of 2018 to an annualized 1 percent from almost 4 percent in the first six months; at the same time, unemployment dropped and government coffers were awash with tax revenue from strong job gains.
The board "recognized that there was still spare capacity in the economy and that a further improvement in the labor market was likely to be needed for inflation to be consistent with the target," Lowe said in the concluding paragraph of his statement. It "will be paying close attention to developments in the labor market at its upcoming meetings."