Rare Good News on Brexit For May As Referendum Supporters Split
(Bloomberg) -- As Theresa May hunkers down to work out her tactics for what seems to be inevitable defeat in Parliament on Tuesday, she can seek solace in the fact that her opponents are fighting each other over how best to reverse Brexit.
A spat between the EU-supporting Liberal Democrats, who have 11 lawmakers in the 650-member House of Commons, and the two main organizations working for a second referendum has exposed fault lines that activists fear will jeopardize their plans. The Lib Dems have proposed an amendment calling for a plebiscite, but even if it gets selected it's unlikely to win many votes.
The People's Vote campaign described the amendment as "deeply unhelpful" because it would come before May's plan is defeated, and allow the prime minister to say that a further referendum had been rejected by Parliament.
"The focus and strategy of our campaign has always been first to get the government's Brexit deal rejected by Parliament on Tuesday and then pave the way for a People's Vote when it has maximum support in the House of Commons," the group said in a statement.
Campaigners say there are 50 Tory lawmakers who would be ready to support a second referendum, but only after May has failed to get her deal through Parliament.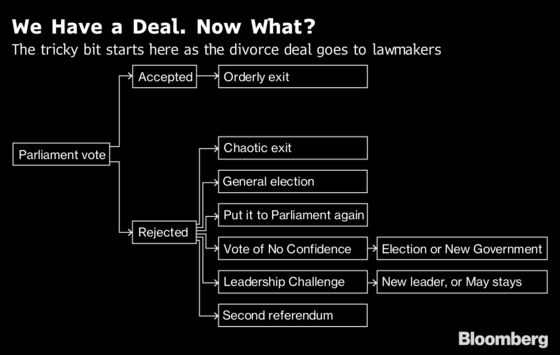 Organizers also wanted to wait until the opposition Labour Party has forced a vote of no confidence in the government, a move that could come as early as Wednesday if May is defeated. The party has said it will back a referendum if it is unable to force a general election through a successful no-confidence motion.
If Labour lawmakers, along with Scottish Nationalists, Liberal Democrats and enough of the 50 Tories back a referendum it would then be able to win a majority in the House of Commons, the groups say.
Pro-Remain lawmakers from the Conservative and Labour parties also questioned the wisdom of tabling an amendment as part of the vote on May's deal. The Liberal Democrat move is more about political point scoring than a realistic attempt to force a change in policy, they said.
Tory lawmaker Sarah Wollaston was persuaded not to table a similar amendment because the timing was wrong and the Liberal Democrats' late move disrupted cross-party plans to force a second referendum, according to people familiar with the pro-referendum campaign.
But the Liberal Democrats, who have styled themselves as the party of remaining in the European Union, were unrepentant.
"The Liberal Democrats have led the fight for the people to have the final say on Brexit from the start," the party said in a statement. "At every stage we have sought to promote a People's Vote and give parliament the option to support us."