Qatar's Departure From OPEC Suggests Gulf Rift Is Here to Stay
(Bloomberg) -- The campaign to isolate Qatar, launched 18 months ago by Saudi Arabia and three other Arab nations, may have peaked with a tweet in August.
That's when Saud al-Qahtani, a top aide to Saudi Arabia's Crown Prince Mohammed bin Salman, told his 1.36 million followers that he was "waiting eagerly" for news on a 40-mile canal construction project which would turn Qatar into an island and place a radioactive waste dump on its border, changing the geopolitical map of the Gulf forever.
Nothing has been heard since of the project, which was never officially confirmed, and al-Qahtani was demoted in the wake of the Oct. 2 murder of Washington Post columnist Jamal Khashoggi at the Saudi consulate in Istanbul. Yet Monday's announcement by Qatar that it will leave the Saudi-dominated Organization of Petroleum Exporting Countries, or OPEC, on Jan. 1 suggests that the proposal's underlying threat -- of a permanent rift in the Gulf -- is happening anyhow.
"If you're looking for a peace treaty moment, someone signing a peace treaty in a rail car, that isn't going to happen," said Gerald Feierstein, a former U.S. ambassador to Yemen and principal undersecretary for the Near East at the Department of State, now at the Middle East Institute in Washington. The tensions between Qatar and some of its neighbors existed long before the boycott, have deepened since and at this point can at best be papered over, he said.
Qatar's Energy Minister Saad Sherida al-Kaabi said on Monday that the OPEC withdrawal was a purely technical decision, unrelated to the boycott. Still, after almost 60 years of membership, the move underscored Qatar's discovery that it can survive in separation from its neighbors.
That's a concern, because the dispute is already having lasting unintended consequences for the Gulf and the wider Middle East.
So long as the antagonism continues -- between Qatar, backed by Turkey, on one side, and Bahrain, Egypt, Saudi Arabia and the United Arab Emirates on the other -- it will probably also doom U.S. efforts to create a so-called Arab NATO, the proposed Middle East Strategic Alliance to counter Iran. And it's likely to set back plans to diversify their economies that all Gulf States have launched to create jobs for exploding youth populations.
The June 2017 boycott was designed to teach Qatar its place in the six-nation Gulf Cooperation Council, or GCC, by triggering an economic crisis that would force it into line with Saudi and UAE foreign policies. Topping the list of demands was that Qatar should join in suppressing the Islamist Muslim Brotherhood movement, which it currently supports across the Middle East, and form a united front against Iran, with which it shares a massive offshore natural gas field.
Neither happened. Instead, Qatar forged deeper links with both Iran and Turkey, as the two Saudi rivals helped it to escape the closure of all land and air traffic between Doha and the four boycotting nations.
Rather than kick out a Turkish military base as demanded, Qatar invited Turkey to deploy more troops, bolstering protection against a possible Saudi attack. The two nations also made common cause in a contest for influence in the Horn of Africa, exacerbating divisions in fragile Somalia. Turkey and Qatar back the Islamist-leaning central government in Mogadishu, while the U.A.E. supports the country's federal states. The dueling assistance has undermined unity in the fight against the terrorist Al-Shabaab movement.
In Iraq, too, Saudi Arabia, Qatar and Turkey have ramped up financial and political support to opposing political factions, according to Renad Mansour, research fellow in the Middle East and North Africa Program at Chatham House, a U.K. think tank. Saudi Arabia backs Prime Minister Haider al-Abadi and his Iran-skeptic Sunni and Shiite partners, including the powerful cleric Moqtada al-Sadr; Qatar supports their more Iran-friendly opponents, led by militia leader Hadi al-Ameri and former Prime Minister Nuri al-Maliki.
"It is very clear the internal Gulf rift is also playing out in Iraq," Mansour said by phone from Baghdad.
The six GCC nations are due to meet in Saudi Arabia on Dec. 9. After last year's brief and poorly-attended summit, a full lineup of heads of state would signal they at least want to deescalate the dispute, according to Giorgio Cafiero, chief executive of Gulf State Analytics, a Washington-based political risk consultancy. But he added any reconciliation is likely to be limited.
When Egypt hosted war games last month called Arab Shield 1 -- seen as a test run for a potential MESA alliance -- Qatar wasn't invited. Mistrust, a poison for any alliance, runs both ways. The boycott has convinced Doha's leaders that they face a bigger security threat from Saudi Arabia and the U.A.E. than from Iran, Cafiero said.
Moreover, the power vacuum in the Middle East and Horn of Africa, which the Gulf States are competing to fill as the U.S. becomes less engaged, won't go away. "There is a possibility that these governments can settle the blockade dispute, but this would not change the fact that there is an ongoing struggle between them for the soul of the Sunni Arab world," Cafiero said.
Though the boycott was costly for Doha, economic growth is forecast at 2.7 percent this year, after dipping to 1.6 percent in 2017. Construction for the 2020 soccer World Cup in Qatar continues.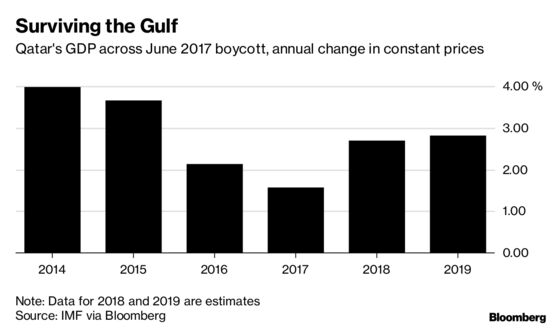 Among the lessons of the boycott's failure is that the Gulf states are economic competitors facing similar reform and demographic challenges, according to Alexis Antoniades, assistant professor of economics at Georgetown University's School of Foreign Service in Doha. Relatively low trade within the bloc lowers interdependency, but it also increases the premium on reforming with, rather than against each other.
All the Gulf nations have "Vision 2030" or 2020 plans, similar to Saudi Arabia's, and "in spirit they are all the same: 'How are we going to become advanced economies?'" Antoniades said. "Either they will compete with each other in trying to make the pie smaller, by taking a bigger share, or they will collaborate to make the pie bigger."
So long as the boycott remains, it will be the former.