Qatar Helps StanChart Dethrone HSBC as Gulf's Top Bond Manager
(Bloomberg) -- Standard Chartered Plc replaced HSBC Holdings Plc as the top manager for bonds and sukuk in the Gulf region this year.
HSBC lost out after not doing a single deal in Qatar since June 2017, when Saudi Arabia and other Gulf Cooperation Council states imposed a diplomatic embargo on their neighbor. Fellow British lender Standard Chartered continued to manage bonds in both countries -- leapfrogging its rival in the process.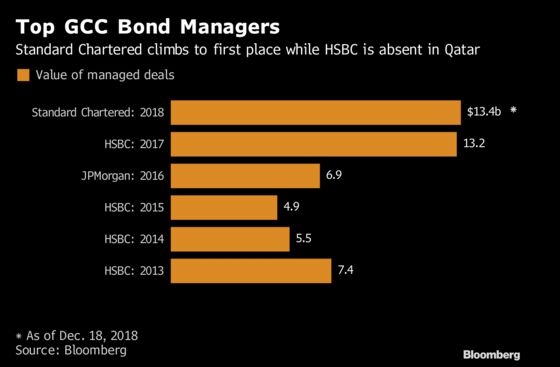 Many institutions "may have decided that, until there's a diplomatic breakthrough, they should limit themselves to bidding for the business of only one of the sides," said Richard Segal, senior analyst at Manulife Asset Management in London.
HSBC declined to comment, while a Standard Chartered representative couldn't be reached.
The total value of GCC bond deals so far this year reached $77.4 billion, data compiled by Bloomberg show. Standard Chartered accounted for 17 percent of this, with second-placed HSBC on 10 percent.
While HSBC didn't have any contracts in Qatar in 2018, Standard Chartered raised money for both countries. It did deals for Saudi Basic Industries Corp. and Saudi Electricity Co. -- majority owned by the Saudi Public Investment Fund -- as well as for the Qatari government.
"Banks need to decide where their focus will lie," said Doug Bitcon, a fund manager with Rasmala Investment Bank in Dubai. For some banks, "if your focus is Saudi, it is likely that you are doing less business in Qatar, and vice versa."