Putin's Sanctions-Hit VEB Is Said to Plan Appeal for $16 Billion
(Bloomberg) -- Russia's state development bank, still emerging from a bailout it needed after international sanctions, is now preparing to ask for another infusion to help fund Vladimir Putin's latest ambitions, according to people familiar with the plans.
Vnesheconombank, known as VEB, is looking for 1 trillion rubles ($16 billion) over the next five years to cover the cost of subsidizing interest rates for infrastructure and other projects that the Russian president made a cornerstone of his re-election campaign this spring, two of the people said, speaking on condition of anonymity to discuss private deliberations.
The lender, which once helped power Putin's Kremlin-directed capitalism, came undone by the plunge in crude and U.S. and European Union sanctions imposed over the last few years. Even prior to that, it racked up losses linked to its funding of projects including the 2014 Sochi Winter Olympics.
"VEB is turning into one of the channels for funding the authorities' desires," said Andrei Movchan, head of the economic policy program at the Moscow Carnegie Center. "The losses that arise are covered by taxpayers."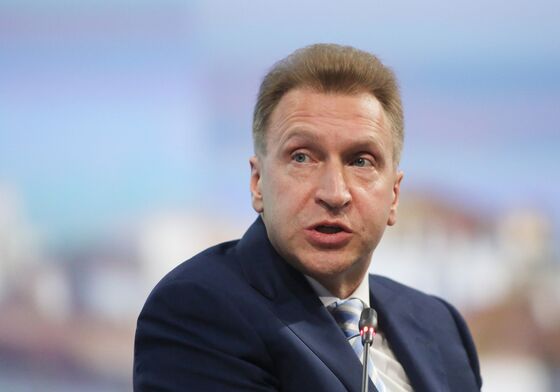 The latest push for more funding follows a leadership shakeup in May, when Putin installed longtime lieutenant Igor Shuvalov as VEB's new chief. A former top government official, Shuvalov replaced Sergei Gorkov, who drew controversy for meeting with Jared Kushner, U.S. President Donald Trump's son-in-law, in New York shortly after the 2016 election. At VEB, Gorkov shed assets, slashed staff and other costs.
The development bank is currently in "an active phase of engagement" with the government about questions of recapitalization and defining VEB's mission for the coming years, said its spokesman Andrei Samokhin, without commenting on the amount involved.
The Finance Ministry said it's "premature" to speak about the size of any capital injection since that would depend on the goals set for VEB, which are currently being discussed. Prime Minister Dmitry Medvedev's spokeswoman Natalya Timakova declined to comment.
The bank's revived ambitions highlight an increasingly upbeat mood in the Russian leadership as oil prices have recovered and the economy returned to growth despite Western efforts to isolate it.
Shuvalov plans to make the bank a key element of the 8 trillion-ruble spending program on infrastructure and other projects that Putin promised as part of his re-election campaign, according to three people familiar with the plans. To ensure the funding, Shuvalov is pushing to have specific spending commitments from the government for the new projects -- as well as the previous bailout effort -- written into official orders, the people said.
VEB wants the government to set a timeline, affirmed in a decree, for repaying its debt over the next five years, one person said. The bank has $9.2 billion of bonds coming due in that period, according to its presentation to investors in June.
Started almost a century ago under Soviet founder Vladimir Lenin, VEB became the spark plug for Putin's state-driven economy at the height of Russia's boom in 2007. It took advantage of its government backing to borrow cheaply on international markets and then used the funds for Kremlin projects ranging from the Sochi Olympics and bank bailouts to covert acquisitions in Ukraine.
Many of those ventures were failing even before VEB was hit with sanctions in 2014, cutting if off from its international financial lifeline. From the start, VEB functioned as "an extra-budgetary fund of the government for the implementation of special projects, a quasi-fiscal instrument," according to Karen Vartapetov, an analyst at S&P Global Ratings.
Since the sanctions, VEB has had to rely almost exclusively on the Kremlin for financing. On June 8, it signed an agreement with the China Development Bank for 65 billion yuan ($9.8 billion) in loans for projects, with officials hoping for more such funding from Russia's allies in Asia and the Middle East.
But the appetite for big new government funding shows that VEB still is counting on the Kremlin for financial backing. That could prove a tough sell in the government. Though the economy is recovering and oil prices have continued to rally this year, Russia is trying to constrain spending.
"The fast growth of the bank's lending portfolio was thanks to the favorable macroeconomic situation: high oil prices, fast economic growth, the government's substantial budget reserves and free access to international capital markets," S&P's Vartapetov said. "All that is gone now, so the old business model will hardly work in current economic conditions."