In China Stocks, a $2.3 Trillion Rebound Is Giving Way to Gloom
(Bloomberg) -- The worst rout in months for Chinese stocks showed the influence that Beijing's economic policies still hold over the bull market.
Investors this week got a taste of how much equities are worth without the prospect of additional measures that had helped restore $2.3 trillion to share values since January. Shanghai stocks lost 5.6 percent, the most since October, after the government signaled it will pare back support for the economy amid evidence of a recovery. Sovereign bonds, which are rapidly turning into Asia's worst performers, also slumped.
It's a pivotal moment for a world-beating rally in China that's been underpinned by expectations of more stimulus and ample liquidity. A barrage of earnings from the nation's largest firms could swing sentiment either way, though the picture isn't encouraging so far. Traders are also eyeing next week's trade talks with the U.S., though the closure of China's markets for a three-day holiday from Wednesday will likely dampen trading.
Hong Kong will be closed for just Wednesday.
The central bank appeared to act to stem declines in the yuan on Friday, when it set the fixing for the currency by more than analysts expected. President Xi Jinping also helped by pledging against currency depreciation that harms other nations. The yuan had slumped to a two-month low against the greenback amid the equity and bond rout.
The PBOC's move to offer targeted medium-term loans was interpreted as shift back to neutral for monetary policy, indicating the central bank's ambition to keep money moving through the system while holding back market expectations for broader easing. Analysts predict this will lead to wilder swings in interbank borrowing costs and bond yields.
Read more:
More swings in rates seen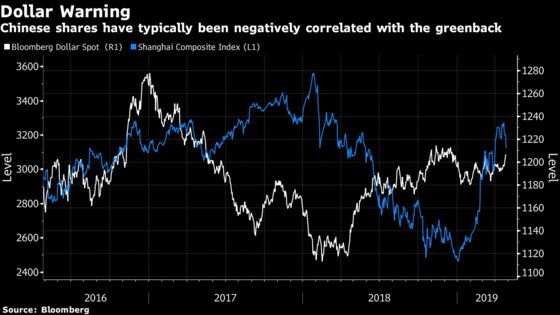 The surge by Shanghai's equity benchmark in 2019 is looking more precarious. Investors wondering whether to cut and run should bear in mind the rebound in the U.S. dollar. A stronger greenback is typically bad news for the nation's equities because it can encourage capital flows into U.S. assets and away from emerging markets such as China.
Here's what else caught our eye this week:
A flood of earnings will hit China's stock market on Friday.
Traders rarely pay this much for the world's most profitable distiller.
Taiwan's top investor of 2019 dials down her massive bet on technology stocks.
China's cash-strapped companies go to new lengths to raise money.
Investors just can't get enough of leverage, even as stocks waver.
Short sellers are returning to Hong Kong, as investors question the rally.
Downside risk to betting on yuan is small as Beijing won't let it drop much.