Default Shock in India Sees Firms Pulling Most Bonds in Decade
(Bloomberg) -- North Eastern Electric Power Corp., an Indian state-run power generator, planned to raise 3 billion rupees ($41.3 million) selling bonds. It couldn't manage 5 percent of that amount, prompting it to scrap the sale on Monday.
Three Indian companies have pulled 58 billion rupees ($800 million) of debt sales this month, the most in at least a decade, according to data compiled by Bloomberg.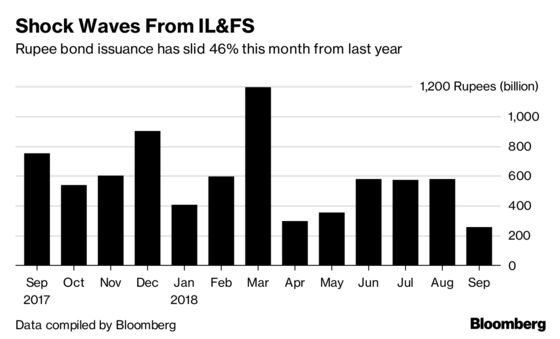 They blamed a rare money market default by Infrastructure Leasing & Financial Services Ltd. and the depreciating rupee for stoking concern in the nation's credit market. The worst liquidity squeeze in more than two years is also making bond sales tougher.
Concerns that IL&FS's woes may spread to other financial institutions have prompted investors to seek higher yields for debt, and pushed anxiety levels in the equity market to an eight-month high. Rising borrowing costs could thwart attempts by Prime Minister Narendra Modi, who faces election next year, to spur investment and add jobs needed to sustain the world's fastest growing major economy.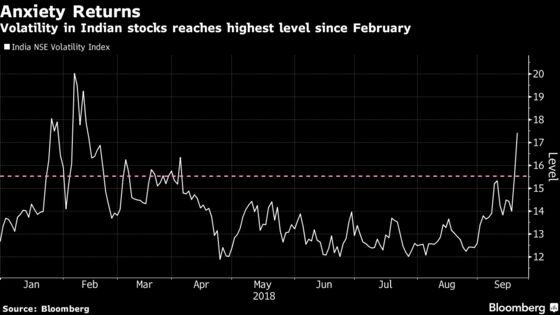 "Market sentiment attached to the IL&FS defaults," among other issues, have made investors cautious, Baidyanath Maharana, Neepco's general manager for finance, said by phone after the deal was canceled. "It has never happened for a power sector bond, where it was virtually not subscribed."
Rural Electrification Corp. pulled the sale of its 30 billion rupee bonds maturing in September 2021 after the cost of borrowings for AAA rated companies surged. Power Finance Corp. canceled issuance of its 25 billion rupee notes due 2028, while Neepco canned the bond due in September 2025.
The average yield on one-year corporate notes jumped to the highest since 2015 last week. Rural Electrification was expecting to place the entire notes offered at 8.65 percent, a representative for the company said on Monday. It had sold debt at 8.63 percent in the last week of August.
Corporate tax payments and the Reserve Bank of India's attempts to prop up a weakening rupee have soaked up cash leading to the worst banking system liquidity level in more than two years. Funds in the financial system are currently at a deficit of around 1.5 trillion rupees, according to the Bloomberg Economics India Banking Liquidity Index, from a surplus of 580 billion rupees earlier this month.
"In the near term, investors would be cautious," said Aneesh Srivastava, chief investment officer at IDBI Federal Life Insurance. "At this stage no issuer is sure of what quantum of funds they can raise in the local credit market."
Investors are concerned that defaults by IL&FS, which on March 31 had total debt of $12.6 billion -- 61 percent in the form of loans from financial institutions -- could spread to other shadow banks in Asia's third-largest economy.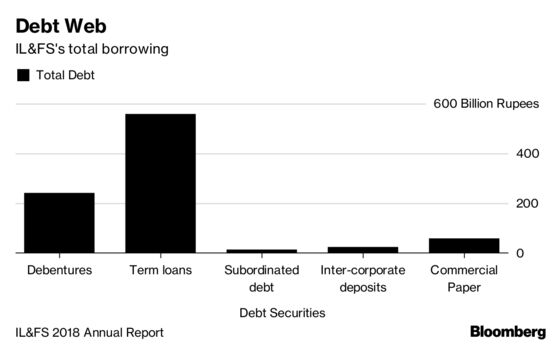 IL&FS, which helped fund India's longest highway tunnel, hasn't been able to pay more than 4.9 billion rupees of its obligations this year and has additional dues of about 3 billion rupees to be repaid by end of October, according to data compiled by Bloomberg.