Prostitution, Lawbreaking Slipped as Share of Italy's Economy
(Bloomberg) -- The value of Italy's illegal and underground businesses gained slightly to almost 210 billion euros ($243 billion) in 2016, even as it fell as a proportion of total gross domestic product.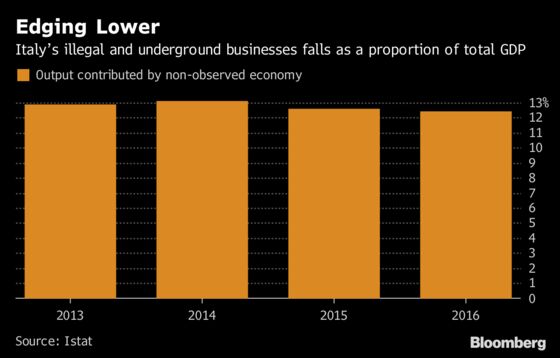 Italians spent more on illegal drugs and less on prostitutes in 2016, the most recent year for which data are available, statistics institute Istat said Friday in a report. The so-called non-observed economy shrank as a proportion of gross domestic product to 12.4 percent from 12.6 percent in 2015 as total output grew more quickly.
Italy 2016 Non-Observed Gross Domestic Product: Summary (Table)
The total value of the illegal and black economies in the Mediterranean country had fallen in 2015 from a peak of almost 213 billion euros in the previous year. The euro region's third-biggest economy emerged in 2014 from a record-long, double-dip recession that started in 2008 and hasn't fully regained the lost ground since. Italy's GDP is forecast to record this year the smallest expansion in the 19-member currency bloc.
The report also shows that in 2016:
Jobs not complying with labor regulations totaled 3.7 million, slightly down from previous year
The underground economy was worth 191.8 billion euros
The illegal economy, included revenue from illegal drugs, smuggling and prostitution, was worth 18 billion euros
Household expenditure for illegal products and services increased to 19.9 billion euros from 19 billion euros in 2015
The one for drugs rose to 15.3 billion euros from 14.3 billion euro, while the one for prostitution was slightly down to 4 billion euros