Prime-Age Participation Is Picking Up, Creating Puzzle for Fed
(Bloomberg) -- Companies complain about worker shortages in the U.S. and there are more job openings than unemployed people. Yet there's a catch in the tale of labor-market tightness: employers still found 250,000 people to hire in October.
That's because Americans are pouring back into jobs from the labor market's sidelines. The share of people working or actively looking has stabilized for the working-age population despite overall demographic pressures that should be pushing the ratio lower, and for prime-age workers 25 to 54 years old, participation is actually increasing.
After sinking after the recession, it's recovered to 2010 levels, with data out Friday showing a jump to 82.3 percent in October from 81.8 percent the prior month. Even so, it remains below the late-1990s peak of 84.6 percent.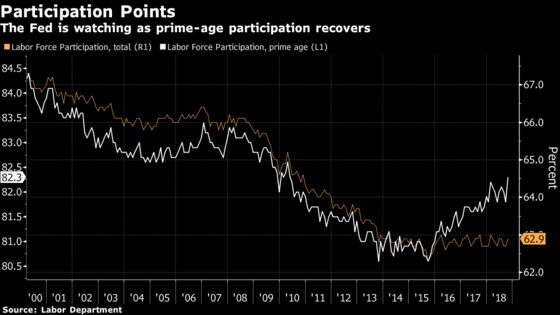 The Fed is watching the trend with great interest.
"A rise in the still-low rate of labor force participation among the prime-age population provides scope for the job market to strengthen further without generating inflationary pressures," Vice Chairman Richard Clarida said last week, while delivering his first major policy speech since joining the central bank.
Fed Chairman Jerome Powell has even allowed that positive hysteresis -- the idea that a hot job market can pull people back into the labor market from its sidelines, boosting productivity and potential growth -- could be something to watch out for.
"While persistently strong economic conditions can pose risks to inflation and perhaps financial stability, we can also ask whether there may be lasting benefits," he said in a June speech, adding that it's no sure bet. "The persistence of any such 'positive hysteresis' benefits is uncertain, since, again, the historical evidence is sparse and inconclusive."
The risk for the Fed is that today's gains prove unsustainable. If the labor market runs up against its limits, it could generate inflation and force the central bank to tighten quickly. That could result in economic slowing and widespread firing that leaves many recent job-market entrants unemployed. Policy makers are balancing those risks by hiking gradually.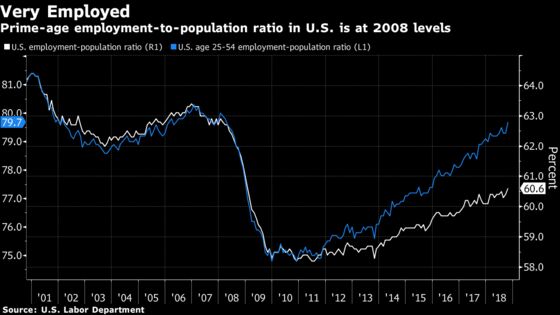 Greater participation is a positive for the Fed, and for rates "it's perfectly consistent with what they've laid out," said Michelle Meyer, head of U.S. economics at Bank of America Merrill Lynch -- at least when it comes to the slow timeline. If more workers allow for more growth, it could mean a higher destination, since potential growth is a key input in determining how far interest rates can rise before they restrict the economy.
"It could potentially change the terminal rate: if they think the participation rate has further room to expand, they could start to tell a narrative of higher potential growth and a higher terminal rate," Meyer said.