Preparing to Tighten, Olsen Says It's Back to `Normal' on Krone
(Bloomberg) -- Norway's central bank is revealing how it tried to support its economy at the height of the oil crisis that hit the nation in 2014.
It reached for the most powerful tool it had: the nation's floating currency. In an interview in Oslo on Wednesday, Governor Oystein Olsen said that back then it was clear that "underpinning" a weaker krone was the quick way to support the economy, which was facing its biggest oil slump in a generation.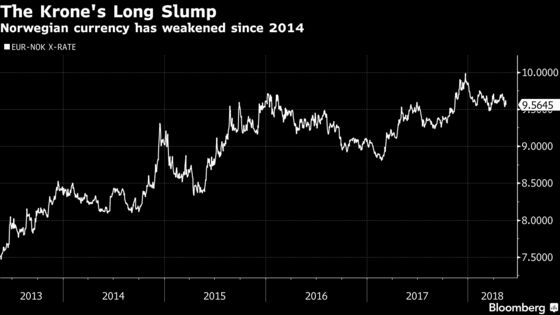 "In that period we were specifically engaged in that dimension and that channel in monetary policy," said Olsen, 66, who has been governor since 2011. "The currency market has been very careful to all the signals we have presented. In that sense we might move into a more normal, slightly different, situation but the currency channel remains very important."
The governor emphasized that the currency isn't pegged to any specific level, and that broad factors were in play to force it lower back in 2014.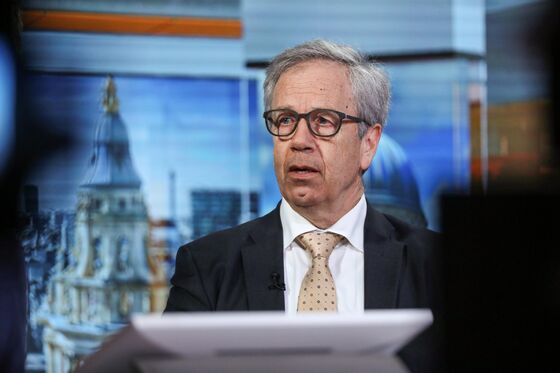 "When you have major changes in the fundamentals of the economy and there's a good rational solid basis for a reaction in the currency market it's hopeless to fight it," he said. "Instead we underpinned it in monetary policy."
Worries on the krone have subsided as Norway economy is now on firm footing. The governor, who declined to discuss any new monetary policy signals on Thursday, has flagged for the first rate increase in seven years "after summer."
But the path to higher rates is, of course, not clear cut. Economic growth continued at a healthy clip in the first quarter, but the 0.6 percent expansion fell just shy of the central bank's estimate. Exports were the driver as consumer spending stalled and investments declined.
Olsen said the growth was roughly in line with estimates and that the bank has "not expressed concern about the composition" of the expansion in the quarter.
The major change since the March monetary policy report has happened in the oil market. Crude prices have surged to $80 a barrel from about $65, which could have major implications for Norway, western Europe's biggest oil exporter.
A potential large rally in oil investments would come at a tricky time for Norway, which just this year decided to lower the inflation target for the central bank to 2 percent from 2.5 percent. Part of the rationale behind that move was that the large inflows of oil cash will soon be over. But just this week the government said it would use oil wealth equivalent to 7.7 percent of the economy in its budget.
Olsen said he's relatively "cool" about the fluctuations in oil prices, while cautioning the industry not to get back to its free-spending ways after improving competitiveness during the deep crisis years. Norway's petroleum industry cut about 50,000 jobs starting in 2014.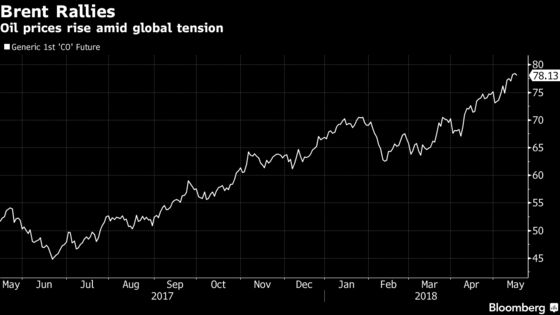 "It would be dangerous for an oil producer to base investment plans or something else on the current high level," he said. "And I think the oil industry is very conscious of that."
Right now it's also "far too early to say" whether the jump in oil will have a broader impact on the economy, he said.
If he sticks to tightening after the summer, Norway will be raising rates ahead of colleagues in Stockholm and Frankfurt, undoubtedly testing currency traders again.
With a key rate of 0.5 percent, he has also avoided cutting as deeply as other central bank.
The main reason is obviously that Norway, which sits on a $1 trillion sovereign wealth fund, has plenty of fiscal power. And that holds lessons looking ahead.
"Our situation is very different," he said. "We realize that we are in a very special situation and it's easy for me to say that in our case we haven't been the only player in town if you take the response to the falling oil prices in 2014."