Praet Says Keeping Rates Low for Too Long Creates Risk Buildup
(Bloomberg) -- European Central Bank chief economist Peter Praet said maintaining interest rates at a record low level for a prolonged period can lead to a buildup of risks in markets, though he indicated he's not advocating any imminent policy shift.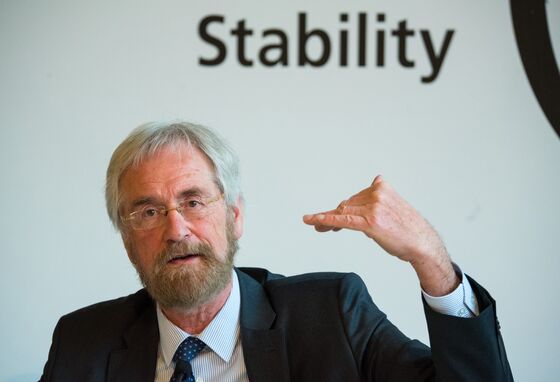 Speaking in London, he said the euro area still needs "significant stimulus" and there's so far no discernible risks. But, policy makers must be aware that the situation can change.
"In the present environment and at the current stage of the monetary policy cycle, however, it is important to be mindful that keeping rates low for long periods can raise challenges for financial stability further down the road," he said on Thursday evening.
The argument that low rates carry risks if maintained for too long has been made in the past by more hawkish members of the ECB's Governing Council. Dutch governor Klaas Knot made the point just this week.
Praet said there are indications that valuations in some markets may be "stretched." At the same time, he stressed it was best to counteract financial imbalances with macroprudential tools.
"While there is no evidence of excessive misalignment across asset classes in the euro area right now, there are signs that valuations are stretched in specific market segments," he said.
From tech stocks to property, there are hints of exuberance in a number of areas. Earlier this month, the Bank for International Settlements warned about a surge in high-risk loans and that distress among borrowers could easily spread to the broader economy.
Praet's comments came hours after ECB President Mario Draghi urged policy makers to make progress on macroprudential tools to confront risks emerging outside the banking sector.
"Macroprudential tools came of age in the aftermath of the financial crisis as central banks turned to them to cool markets without bludgeoning them and hurting overall economic growth with the blunt instrument of interest rates," Praet said.
Praet -- who highlighted that the ECB has shown its "creativity" in crises -- also rejected the idea of building interest-rate buffers in order to be prepared for economic downturns.
"I like banks to have buffers, the system to be resilient -- but for monetary policy what you have to do is to bring back the economy to where you want it to be," he said. "You don't change policy because you say we may have a recession next year."