Powell May Need Senate Friends More Than Ever to Fend Off Trump
(Bloomberg) -- Donald Trump hasn't been shy about his disappointment in Federal Reserve Chairman Jerome Powell's interest-rate hikes.
The president is even discussing firing his hand-picked Fed chief, Bloomberg News reported late Friday night in Washington.
While it's fuzzy whether that's even possible legally, one thing is clear in the Federal Reserve Act: Senators must confirm Powell's replacement, making Congress a key actor in the unfolding drama.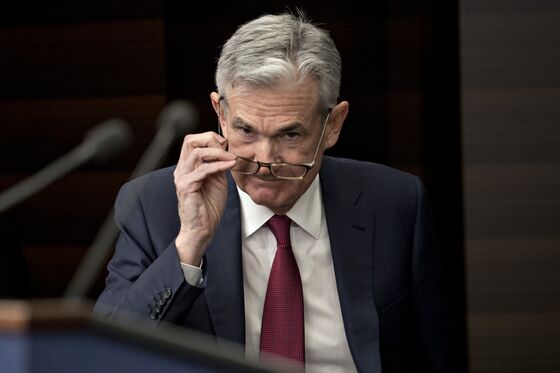 According to a calendar of his meetings, Powell has been shoring up bipartisan relationships.
Since his confirmation in February, Powell has been making the rounds on Capitol Hill, which Fed officials typically do to explain Fed policy to lawmakers and stress the importance of central-bank independence. Powell has held 37 meetings and phone calls with senators since becoming Fed chief in February, based on his calendars through October. That effort has intensified in recent months: 25 of the meetings came in August, September or October.
Powell has met with Sherrod Brown -- the ranking Democrat on the Senate Banking Committee, which oversees the Fed -- five times. He's met with Senate Banking Chairman Mike Crapo, a Republican, four times.
He's chatted with Republicans Bob Corker, Roy Blunt, Jerry Moran, Mike Rounds and Tim Scott twice each. And since February he's met individually with every Republican banking panel member except Pennsylvania's Pat Toomey and North Carolina's Thom Tillis, calendars show.
Below is a timeline of Powell's meetings and phone calls:
| | |
| --- | --- |
| 2/21/18 | Mike Crapo (ID), R |
| 2/21/18 | Sherrod Brown (OH), D |
| 3/8/18 | Jeanne Shaheen (NH), D |
| 3/22/18 | Orrin Hatch (UT), R |
| 5/22/18 | Mike Crapo (ID), R |
| 5/23/18 | Sherrod Brown (OH), D |
| 6/28/18 | Heidi Heitkamp (ND), D |
| 7/9/18 | Sherrod Brown (OH), D |
| | |
| --- | --- |
| 7/11/18 | Cory Gardner (CO), R |
| 7/12/18 | Mike Crapo (ID), R |
| 7/13/18 | Roy Blunt (MO), R |
| 7/19/18 | Ron Wyden (OR), D |
| 8/2/18 | Chuck Schumer (NY), D |
| 8/2/18 | Elizabeth Warren (MA), D |
| 8/2/18 | Rob Portman (OH), R |
| 8/3/18 | Roy Blunt (MO), R |
| | |
| --- | --- |
| 8/15/18 | Sherrod Brown (OH), D |
| 8/15/18 | Bob Corker (TN), R  |
| 8/15/18 | Jerry Moran (KS), R |
| 8/15/18 | Ben Sasse (NE), R  |
| 8/16/18 | Tim Scott (SC), R |
| 8/16/18 | Mark Warner (VA), D |
| 8/16/18 | Mike Crapo (ID), R |
| 9/19/18 | Richard Shelby (AL), R  |
| | |
| --- | --- |
| 9/19/18 | Jack Reed (RI), D |
| 9/20/18 | David Perdue (GA), R |
| 9/21/18 | Mike Rounds (SD), R  |
| 9/25/18 | Dean Heller (NV), R |
| 9/26/18 | Tom Cotton (AR), R |
| 9/27/18 | Tim Scott (SC), R |
| 9/27/18 | Martin Heinrich (NM), D |
| | |
| --- | --- |
| 10/3/18 | Bob Corker (TN), R |
| 10/3/18 | Jerry Moran (KS), R |
| 10/4/18 | John Kennedy (LA), R |
| 10/4/18 |  Mike Rounds (SD), R  |
| 10/17/18 | Chris Coons (DE), D |
| 10/31/18 | Sherrod Brown (OH), D |