Powell to Stress Fed Patience on Rate Hikes: Decision Day Guide
(Bloomberg) -- Jerome Powell will debut the Federal Reserve's latest communications strategy -- a press conference eight times a year -- by emphasizing patience in raising interest rates, a message the chairman struggled to deliver in December.
The Federal Open Market Committee is widely expected to keep rates unchanged in a 2.25 percent to 2.5 percent target range at the conclusion of a two-day gathering on Wednesday in Washington. Its policy statement due at 2 p.m. may alter a commitment to further gradual hikes. Thirty minutes later Powell will address reporters, inaugurating his new approach of holding a media briefing after every FOMC meeting.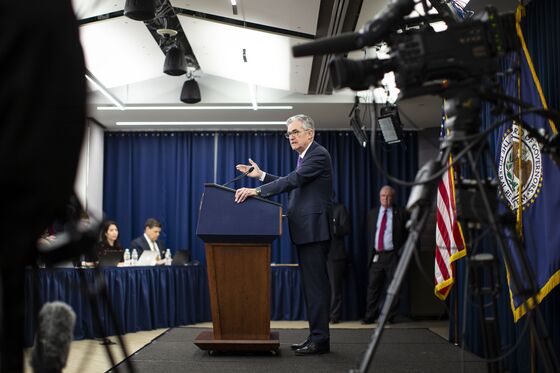 Almost eight years after then-Fed chief Ben Bernanke held the first press conference, officials believe these briefings bolster public understanding of the central bank. On the other hand, doubling their number raises the risk of gaffes. Stocks fell to a 20-month low in the days after Powell spoke on Dec. 19 as investors digested the Fed's commitment to "some further gradual" rate hikes. A Bloomberg News report during that period that President Donald Trump had discussed firing the Fed chief also added to market unease.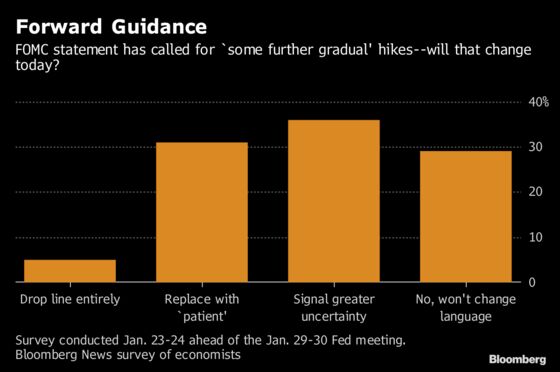 "We're entering a tricky period for communications," said Stephen Stanley, chief economist of Amherst Pierpont Securities LLC. "It was easy when the Fed was raising rates at every other meeting, but that is done and the Fed is pushing the idea of data dependence. In 2019, communications will get a lot more complicated."
The FOMC must reflect additional risks to growth from a five-week government shutdown, which has also limited its oversight of the economy by delaying release of several important indicators. In addition, it must weigh the cumulative impact of its nine rate increases since late 2015, as well as slowing global growth and financial market volatility, even though stocks have recovered most of the losses sustained in December.
About a third of economists polled by Bloomberg say the statement could adjust the line about further rate hikes to make an explicit reference to being "patient," while another third say they will signal increased uncertainty.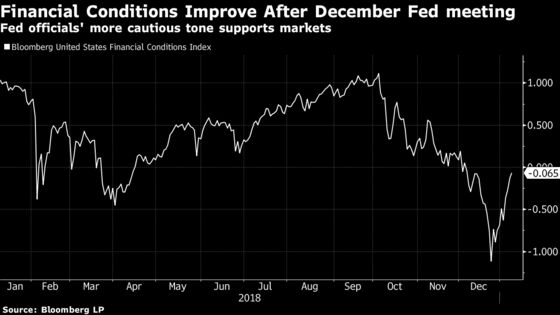 Stressing patience would reflect recent Fed speakers, including Powell's Jan. 4 comments in Atlanta that he's "listening sensitively to the message that markets are sending."
There will be "some nods in the statement" reflecting caution, said James Ong, senior macro strategist at Invesco Ltd. "This would mean language pointing to a March pause and highlighting financial conditions while staying fairly upbeat on the economy."
The exact wording could be more challenging because the shutdown delayed government data, which could lead the FOMC to omit specific descriptions of consumer and business spending, according to JPMorgan Chase & Co. chief U.S. economist Michael Feroli.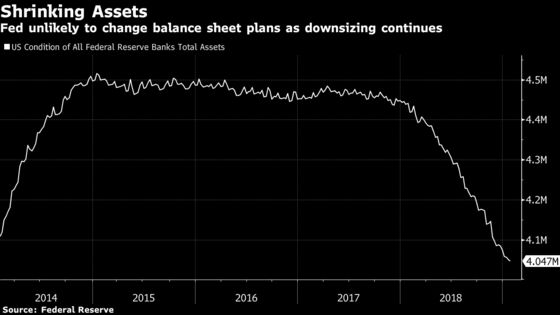 The committee tweaked its guidance in December to say that its "judges" rather than "expects" more rate hikes, a change intended to underline that moves would be data dependent. The FOMC discussed dropping the language at some stage, according to minutes of its Dec. 18-19 meeting. Investors are pricing in no additional hikes this year.
Regular press briefings will make each meeting live for a possible rate move. "It adds more uncertainty to Fed policy as committee members are no longer restricted to four potential dates," said Lindsey Piegza, chief economist at Stifel Nicolaus & Co.
Powell is likely to try to strike a balance of emphasizing continuing economic strength, keeping rate hikes on the table for later in the year, while emphasizing patience.
What Our Economists Say
"The delay of key economic releases no doubt creates complications for Fed officials, who are trying to gain a clearer understanding of how the financial market upheaval of the fourth quarter may have impacted economic confidence and activity. Fortunately, the Jan. 30 FOMC decision is not expected to be consequential, as policy makers have already signaled an extended pause, and do not face an urgent need to clarify their intentions at present."

-- Carl Riccadonna and Tim Mahedy, Bloomberg Economics (full note here)
"Hopefully Powell will adopt the same tone he used in Atlanta," said Roberto Perli, a partner at Cornerstone Macro LLC in Washington and a former Fed economist. "He continues to sound like he is aware of risks, that he is aware that the outlook may not evolve as expected, and that he doesn't use the word 'autopilot' in reference to rates, balance sheet, or anything."
While Powell has opened the door to modifying the FOMC's gradual shrinking of its balance sheet, there's little expectation the committee will change its policy at this meeting. Economists in the Bloomberg poll saw no change in the caps controlling its runoff in 2019.