Powell Signals Fed Policy on Hold Amid Hopes Economy Set for Soft Landing
(Bloomberg) -- Federal Reserve Chairman Jerome Powell may not want to say it out loud but it sure seems like he thinks that he has achieved a rarely-seen soft landing for the U.S. economy.
In a press conference after the Fed cut interest rates for the third time in 2019, he repeatedly said that the stance of policy was now "appropriate" to keep the economy growing moderately, the jobs market strong and inflation near the central bank's 2% goal.
"We believe monetary policy is in a good place to achieve these outcomes," he said, strongly suggesting that rates are on hold for a potentially protracted period.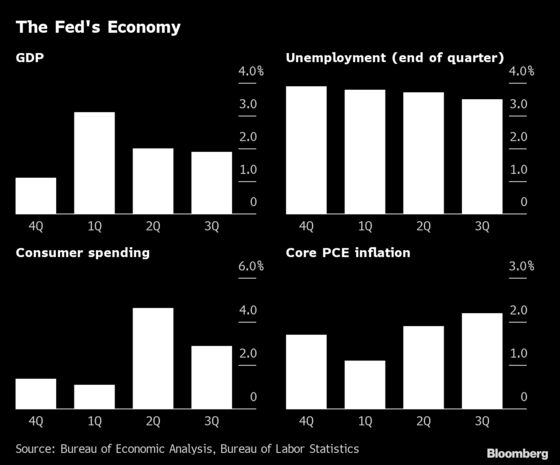 There are risks, of course, both to the downside and the upside, which is why Powell perhaps understandably shied away from declaring victory on sticking a soft landing.
"You never say you've achieved it," he said.
The economy could slow more than the Fed expects if businesses begin to chop payrolls like they're already doing with capital investment. The next test of that will come Friday, with the release of the October jobs report.
Bond traders aren't fully convinced the Fed is done lowering rates. Overnight swap rates fully priced out a December rate easing, but they still see another reduction by November 2020.
On the flip side, the easier Fed policy -- Powell termed it as "accommodative" -- could lead to excesses in financial markets and leverage that eventually upend the expansion, though the Fed chair said that wasn't the case now.
"We don't see bubbles and that kind of thing," he said.
That doesn't mean they can't develop, especially since Powell suggested policy could remain lax for a long time.
"We would need to see a really significant move up in inflation that's persistent before we would consider raising rates to address inflation concerns," he said.
What Our Economists Say

"The October FOMC post-meeting communique proffered the possibility of additional policy easing, but dialed back the degree of certainty through subtle language changes. This is consistent with Bloomberg Economics' expectation that officials would aim to preserve optionality around upcoming meetings, even though we expect tepid economic data to ultimately compel the Fed to act."

-- Carl Riccadonna, Andrew Husby and Eliza Winger. To see the full note, click here
The Fed has arguably achieved a soft landing only once, in the mid 1990's under then-Chairman Alan Greenspan: It slowed growth just enough to prevent the economy from overheating without sending it into recession.
Powell has referred to that episode more than once in describing the Fed's current strategy. Just as it's done now, it reduced rates three times back then after raising them repeatedly.
The central bank said that Wednesday's quarter percentage-point rate cut to a range of 1.5% to 1.75% came in response to slowing global growth and muted inflation pressures.
In indicating that the Fed might be done altering rates for a while, Powell said that some of the most extreme risks to the outlook have diminished.
A no-deal Brexit -- where the United Kingdom crashes out of the European Union -- seems less likely. And trade tensions could ease if the U.S. and China go ahead with their phase one pact.
"There's plenty of risk left but I'd have to say that the risks seem to have subsided," Powell said.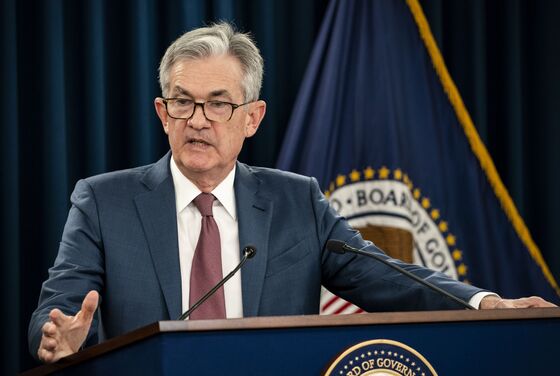 Vincent Reinhart, a former senior Fed official and now chief economist at BNY Mellon, said Powell was effectively a hostage to fortune, dependent on the highly-unpredictable actions of President Donald Trump on trade.
"That's uncomfortable," Reinhart said. "Ultimately it depends on a political act."
Trump may be a worry on another front. A moderately expanding economy -- with growth around 2% -- may not be strong enough for him in the 2020 presidential election year.
What the central bank sees as a soft landing "is unsatisfying to a lot of people," Reinhart said.
Powell said the Fed's shift to an easier stance was already helping the economy, reviving the housing market and aiding consumer spending, and would continue to provide support going forward as the lagged effect of the rate cuts kick in.
"He's still being quite optimistic, I think, particularly about the household sector," said Jennifer Lee, a senior economist at BMO Capital Markets.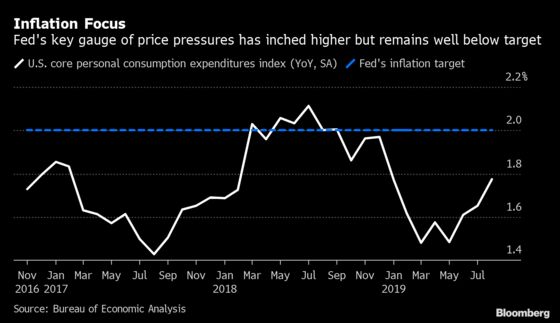 Powell may also be too optimistic about the Fed's ability to lift inflation to its 2% target, a goal that's proven elusive since the central bank introduced it in 2012.
The Fed chief said it was crucial to achieve that aim, though he acknowledged that it's proven difficult to do that.
Inflation has "moved back up but it seems to be settling in below 2%," he said.
Still, he suggested that the Fed was in no rush to cut interest rates again, saying it would take a "material reassessment" in its economic outlook for it to move.
"The Fed is now on hold as a base case," Roberto Perli, a partner at the research firm Cornerstone Macro LLC and a former Fed economist, wrote in a note on Wednesday.