Powell Sees Bright Moment for Economy With More Hikes Ahead
(Bloomberg) -- Ten years after the peak of the financial crisis, Jerome Powell's Federal Reserve sees a U.S. economy capable of humming along without support from monetary policy.
Unemployment is low. Inflation is stable and anchored. Financial conditions merit watching, but don't look overly worrisome. And against that backdrop, policy makers are raising interest rates gradually despite renewed criticism from President Donald Trump.
They made an expected rate increase on Wednesday, their third in 2018, while telegraphing another before year-end. In an optimistic press conference, the chairman also indicated that the path is clear for future hiking well into 2019.
"It's a particularly bright moment," Powell said of the economy. He praised the value of gradual rate increases, which have allowed the Fed to watch their policy moves play out.
"What we're going to be doing, as we go through time, is asking at every meeting whether monetary policy is set to achieve our goals," Powell said.
Highlights of Fed's September Statement
Fed raises target range for policy rate a quarter point to 2 percent to 2.25 percent 
Fed removes language describing policy setting as "accommodative" from statement
Dots show that 12 of 16 officials favor a fourth 2018 hike 
The hike didn't go over well with Trump. At a press conference hours after Powell spoke, Trump said that he wasn't happy the central bank raised rates, calling himself "a low interest-rate person."
In their statement, Fed officials dropped a reference to "accommodative" policy. Practically, that doesn't matter much, because policy remains in easy territory -- Powell acknowledged as much. But it is symbolically relevant. The Fed has maintained the phrase to reassure markets since starting on the path toward normalization in 2015. With the tweak, officials see the end of an era of economic hand-holding.
"This change does not signal any change in the likely path of policy," he said. "We still expect, as our statement says, further gradual increases in the target range for the fed funds rate."
Asian stocks fluctuated Thursday as investors assessed the Fed's commentary, while the dollar ticked higher and Treasuries steadied.
Twelve of 16 officials saw a fourth hike coming this year, based on their updated quarterly forecast. Officials broadly expect additional rate increases next year, with the median still penciling in three hikes. Richard Clarida, who submitted a dot for the first time since being sworn in as vice chairman of the Fed Board, may have added his projection to the four-hike camp for 2019. It grew by one person.
For Powell, "the main message he's trying to convey is that all is going to plan," said James Kahn, a professor of economics at Yeshiva University in New York and former official at the New York Fed. "They're confirming this is about as good as things get."
Things get more uncertain with time, though: A few officials downgraded their 2020 dots, and some seem to expect rates to converge toward their longer-run median estimate of 3 percent starting in 2021.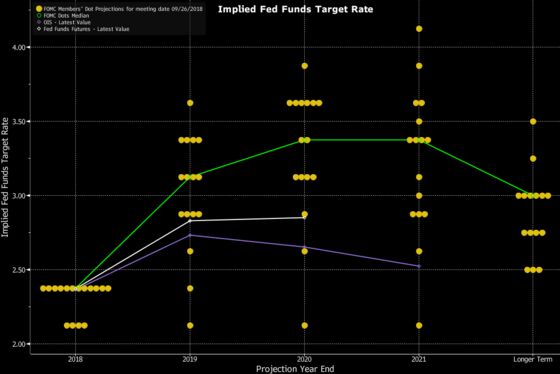 Confidence in near-term rate hikes stems from an economy that's performing well. The unemployment rate, at 3.9 percent, is well below the 4.5 percent rate the Fed sees as sustainable in the longer run. Inflation came in right at the Fed's 2 percent goal in July, stripping out volatile fuel and food, though many economists think it could ease back to 1.9 percent when August figures are released on Friday.
Powell sounded unconcerned about a rapid takeoff in inflation, acknowledging in his press conference that the committee's forecasts shows an economy where unemployment is well below the longer-run level and inflation stays close to its 2 percent goal.
"That is based on our understanding of the way the inflation process works now," Powell said. "Inflation seems to be fairly non-reactive to changes in slack."
What Our Economists Say...
"The updated economic projections signal increased confidence in an extended period of above-trend economic growth (through 2020), which in turn justifies policy makers' assessment warranting a modestly restrictive level of the fed funds rate from the second half of 2019 through to at least the end of 2021."

--Carl Riccadonna, Yelena Shulyatyeva and Tim Mahedy, Bloomberg Economics

See our Fed React for more
With the job market running strong and price pressures near-target, the Fed has been steadily removing accommodation to keep the economy operating at an even keel. This marked their eighth rate increase since December 2015.
Hikes have proceeded at a once-quarterly pace this year, and markets are closely watching to see whether that persists into 2019. Officials expect to surpass their long-run sustainable rate estimate -- a proxy for the neutral rate that neither boosts nor restricts economic activity -- before the end of 2019.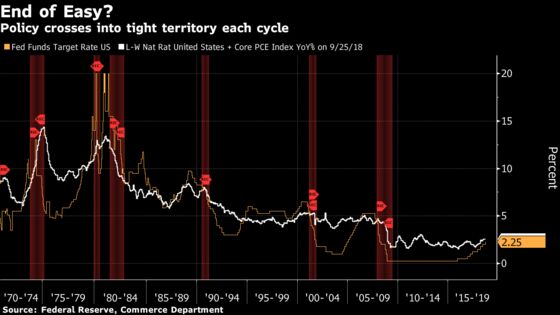 But Powell on Wednesday appeared to de-emphasize those neutral rate estimates, saying that while "some" participants pencil in "modest" overshoots, they're "far out into the future, it's hard to be confident that that's the way things are going to be."