Fed's Powell Says U.S. May Still Be Shy of Full Employment
(Bloomberg) -- Federal Reserve Chairman Jerome Powell said the U.S. economy may not yet have reached full employment, while also noting that risks to the central bank's inflation forecast were "roughly balanced."
"We need people, we need more people who are going to fill these jobs that are going to be coming open," Powell told the House Financial Services Committee Wednesday on his second day of semi-annual testimony before Congress. "We're close to full employment, maybe not quite there."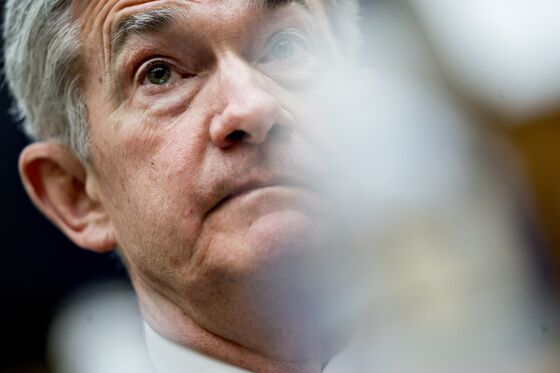 Full employment refers to the level at which falling joblessness begins to generate unwanted inflation. A judgment that it is lower than in the past could lessen Powell's sense of urgency over the need to speed up the pace of interest-rate increases.
"I feel like that reflects his own view, probably not the center of the committee," said Laura Rosner, senior economist at MacroPolicy Perspectives in New York. "It is more confirmation that he leans slightly dovish on the labor market."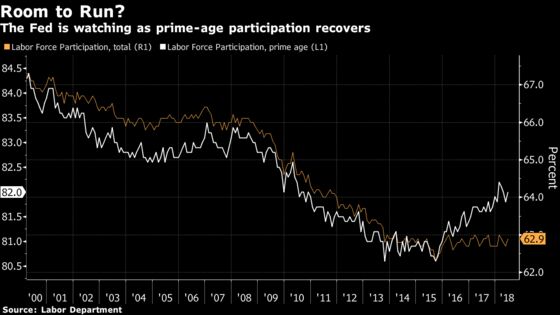 Despite joblessness hovering at or below 4 percent in recent months -- below most Fed officials' estimate for full employment -- inflation has remained subdued.
"For a long time inflation was below target and we were pushing it," Powell said. "We've now just about reached a symmetric 2 percent objective."
But the new Fed chief, who took office in February, didn't see the hot labor market pushing prices higher any time soon.
"I think from this point forward the risks are roughly balanced," he said, adding he was still "slightly more worried about lower inflation."
Inflation as measured by the Fed's preferred gauge hit 2.3 percent in the 12 months through May, and 2 percent after excluding volatile food and energy components. That's the first time core inflation reached the central bank's 2 percent goal since 2012.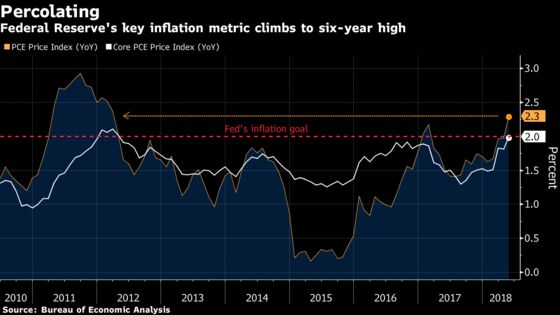 The median forecast from Fed officials in June was for inflation of 2.1 percent in 2018, 2019 and 2020.
Powell has laid out an upbeat assessment of the U.S. economy that will keep the central bank on a gradual path of raising interest rates for now. With unemployment near a 20-year low and inflation around the Fed's 2 percent target, policy makers have penciled in another two rate increases this year following quarter-point increases in March and June.
Once again, however, Powell highlighted the perils to the U.S. economy from escalating trade disputes initiated by President Donald Trump.
"If this process leads to a world of higher tariffs on a wide range of goods and services that are traded," that would be "bad for our economy," he said.
His comments come as an increasing number of economists and policy makers warn that trade tensions threaten to undermine global growth. The International Monetary Fund on Monday said world output could drop by about 0.5 percent below its projected level in two years if threatened trade barriers become reality.
"This is the torch we've been carrying around the world for 75 years," Powell said, referring to the benefits of free trade. "The bottom line is, a more protectionist economy is an economy that's less competitive, it's less productive."
"You want to be careful to walk along this path because it may not be so easy to get off it," he added.
Powell also said the Fed doesn't intend, unless there is a meaningful economic downturn, to change its plan for reducing the size of the central bank's balance sheet in response to the diminishing gap between short-term and long-term U.S. Treasury yields.
Some market participants and economists believe the shrinking of the balance sheet is contributing to that. Many also consider it a reliable harbinger of a coming recession when long-term yields fall below short-term yields.