Powell Says Fed May Lift Rates to Levels That Restrain Growth
(Bloomberg) -- The Federal Reserve may eventually raise interest rates to levels where they begin to restrain economic growth though that's still some ways off, Chairman Jerome Powell said.
"Interest rates are still accommodative, but we're gradually moving to a place where they'll be neutral," neither holding back nor spurring growth, Powell said Wednesday at an event in Washington hosted by The Atlantic magazine and the Aspen Institute. "We may go past neutral. But we're a long way from neutral at this point, probably," he added.
The central bank raised rates last week for the third time this year, lifting its target range to 2 percent to 2.25 percent. Since then, stock prices have flirted with fresh record highs and the yield on 10-year Treasuries has reached the highest since 2011.
Fed policy makers peg the long-run neutral rate at 3 percent, according to the median projection of officials released after last week's meeting. An updated dot plot of their interest rate forecasts shows them raising rates slightly above that level by the end of next year.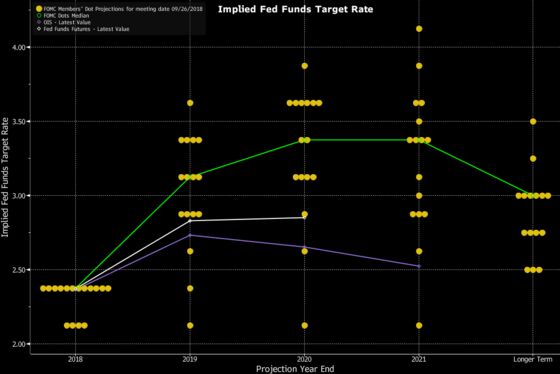 "The practical way we can navigate between moving too fast and moving too slow is to move gradually," Powell said.
In his fourth public speaking engagement in a week, Powell repeated his upbeat assessment of the economy a day after drawing attention to the "extraordinary times" the U.S. is experiencing with low, steady inflation alongside very low unemployment.
The U.S. is experiencing "a remarkably positive set of economic circumstances, and we're working hard to try to sustain the expansion and keep unemployment low and keep inflation right on target," he said Wednesday. "There's really no reason to think that this cycle can't continue for quite some time."
Asked what keeps him up at night, Powell said "basically everything. Nobody wants a central banker who sleeps well."
While the Fed doesn't detect a buildup of financial instability now, the next crisis is likely to be sparked by something different than the financial meltdown a decade ago, he said. A cyber attack "or some sort of global event" are potential triggers, he said, adding "the world is full of risks."
Several other Fed officials spoke earlier Wednesday, each offering support for additional interest-rate increases, though differing on the need for another hike this year.
Chicago Fed President Charles Evans, long known as a policy dove, sounded the most hawkish. In an interview with Bloomberg Television, he advocated lifting rates once more this year and then continuing until they reached a "slightly restrictive setting" at around 3 percent to 3.25 percent.
Patrick Harker, president of the Philadelphia Fed, was more cautious in a separate interview with Bloomberg Television. He said he didn't support another hike this year and favored just two in 2019. With inflation still tepid, he said, "I don't think we need to rush the normalization process."
Thomas Barkin, head of the Richmond Fed and the third official to speak Wednesday morning, said he supported a path of gradual rate hikes but had his eye on risks that included a flattening yield curve and uncertainty over trade disputes.
Cleveland Fed chief Loretta Mester said she supported a gradual pace of hiking, though the speed will depend on inflation and employment levels. "If we end up having inflation move high up" or if it goes too much above target, "then we need to move policy faster," she said.