Powell's Dovish Rate Tilt Reflects Fear of Fool-in-Shower Trap
(Bloomberg) -- Federal Reserve Chairman Jerome Powell wants to avoid being tagged as the fool in the shower. And that's why he's likely to be especially cautious about marching interest rates higher in 2019.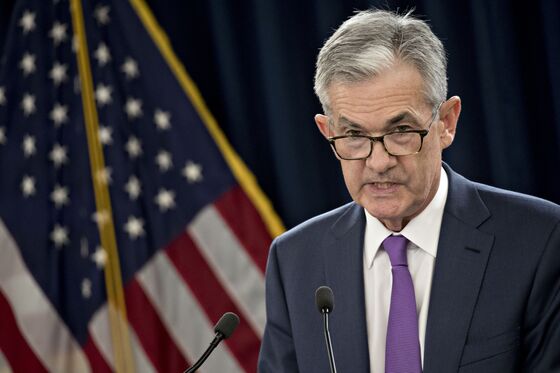 In the fool-in-the-shower analogy -- widely attributed to the late Nobel-Prize-winning economist Milton Friedman -- the bather ends up getting scalded after turning the hot water all the way up in a chilly shower. The monetary policy equivalent today would be having the Fed tank the economy by jacking up rates without regard to the delayed contractionary impact of its previous increases.
Judging by his recent remarks, Powell is well aware of the danger.
"The economic effects of our gradual rate increases are uncertain, and may take a year or more to be fully realized,'' he said in a Nov. 28 speech that sparked speculation of an early pause in the Fed's rate-hiking campaign and triggered a huge rally in the stock market.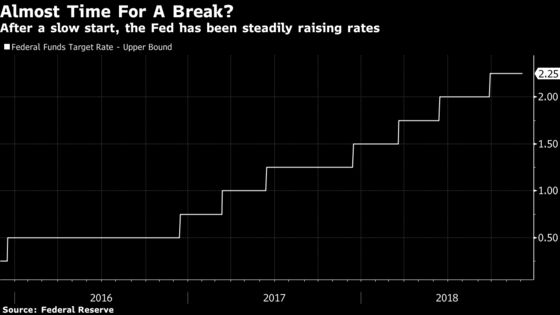 The Fed is widely expected to raise rates for the fourth time this year later this month. But the path next year is less certain.
"You're hearing more about the policy lags and that, combined with weak housing data, increases the odds a little bit that they'll want to take a break sometime'' from raising rates, said Michael Feroli, chief U.S. economist for JPMorgan Chase & Co., who nevertheless sees four Fed rate hikes next year.
The median forecast of Fed policy makers in September was for three increases of a quarter percentage point each in 2019. That though masks a divergence of views, with 12 of the officials evenly split among two, three or four hikes. Federal Open Market Committee members will update their rate forecasts in the so-called dot plot at their Dec. 18-19 meeting.
Citing the "subtly shifting tone from policy makers,'' Ellen Zentner and her fellow economists at Morgan Stanley told clients on Nov. 29 that they expect "an incrementally more dovish dot plot'' at the December meeting.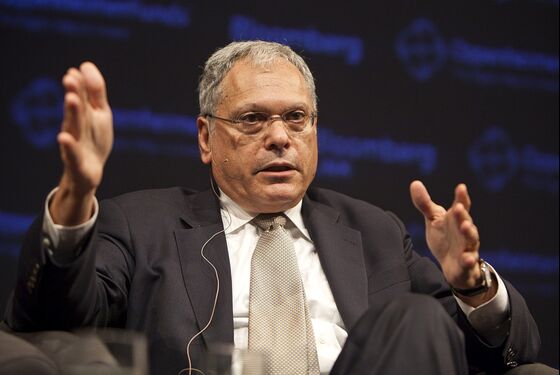 Former Fed Governor Laurence Meyer now thinks the Fed will raise rates two times next year, not the three he previously expected, according to a Nov. 30 note from his Monetary Policy Analytics shop.
A Powell pause would carry risks, however. It could open up the central bank to criticism that it is caving in to pressure from President Donald Trump and stock market investors for a halt in rate hikes.
Trump, who has been relentless in his criticism of the Fed, liked Powell's Nov. 28 speech to the Economic Club of New York, Treasury Secretary Steven Mnuchin told CNBC television earlier this month.
Some Wall Street professionals, meanwhile, have been crowing about the emergence of a Powell put -- an effective commitment by the Fed to ride to the rescue of the stock market when it shows signs of crumbling.
Powell is wrestling with two types of time lags as he maps out the future direction of rates. The first is the more familiar one that he mentioned in New York and that Friedman memorialized with his comment about the "long and variable lags'' of monetary policy. It just takes a while for interest rate changes to affect the economy.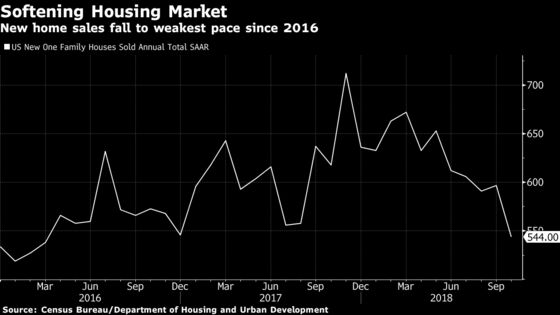 So the housing market has only recently shown signs of softening in reaction to a Fed rate-hiking campaign that began at the end of 2015. Sales of new U.S. homes fell in October to the weakest pace since March 2016, while contracts to purchase previously owned dwellings dipped to their lowest level in four years.
It takes even longer before a slowdown in growth feeds through to higher unemployment and weaker inflation, as companies lay off workers and trim prices in response.
The second lag that Powell confronts is less familiar but no less important. It's the time that it takes changes in the short-term interest rates that it controls to affect the wider financial conditions that are of greater consequence to the economy.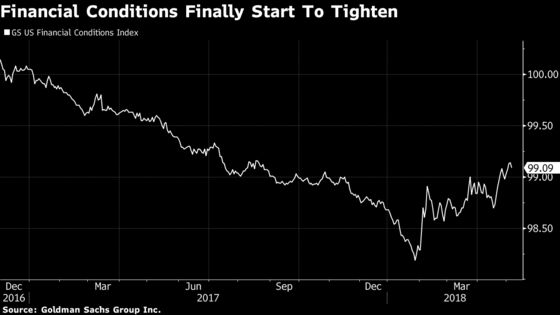 For much of the time that the central bank has been raising rates, financial conditions have been easing as equity markets forged ahead, corporate bond yields dipped and the dollar weakened. It's only recently that they've begun tightening, though New York Fed President John Williams said on Tuesday that they're "still pretty favorable to growth'' overall.
The risk is that now that they've begun, the market moves could happen in a "very sharp and non-linear'' way rather than being the "gradual thing that everybody always hopes for but never seems to happen,'' Tobias Adrian, financial markets chief at the International Monetary Fund, said at a Washington conference on Nov. 15.
Powell told reporters on Sept. 26 that the Fed had tried to deal with the lags in policy by raising rates gradually, arguing that gave the central bank some time to assess the impact of its moves.
But recently he's sounded even more cautious as the Fed has raised rates to levels "just below'' the range of estimates of neutral, where policy neither spurs nor restricts the economy.
When "you're walking through a room full of furniture and the lights go off, what do you do?'' Powell said at a Nov. 14 appearance in Dallas. "You slow down. You stop, probably, and feel your way. So it's not different with policy.''