Powell Put May Provide Relief for Chinese Yuan, BNY Mellon Says
(Bloomberg) -- A recent dovish shift in tone from top Federal Reserve officials could be enough to relieve pressure on China's yuan, which has begun to claw back some ground after dropping to a decade low last month.
That's the view of Bank of New York Mellon's Chief Currency Strategist Simon Derrick, who wrote that recent Fed remarks and the subsequent pullback in expectations for how much the U.S. central bank will tighten, could have an effect on China-related markets.
"Much as in January 2016, it is entirely possible that this change in tone from the Fed might be enough to relieve the pressure" on the onshore yuan, he wrote in a note Thursday. "Indeed, this may already be happening," he said, noting that dollar-yuan non-deliverable forward outrights have been making a series of lower highs since the start of the month.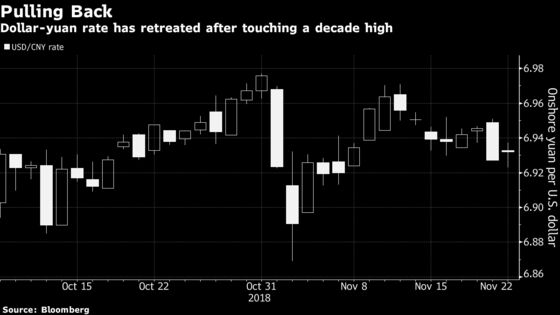 Market expectations for Fed interest-rate hikes have been dialed back following comments last week from Chairman Jerome Powell highlighting potential headwinds to the U.S. economy, and from Vice Chairman Richard Clarida that there is some evidence the global economy is slowing. Fixed-income markets on Wednesday were pricing less than 32 basis points of tightening for 2019, compared with around 50 basis points two weeks earlier.
It is arguable that Powell's comments last week in conversation with fellow policy maker Robert Kaplan provided the "first tentative signal" that a so-called "Fed put" remains in place, Derrick wrote, referring to the idea that the U.S. central bank can step in to provide relief during severe market downturns.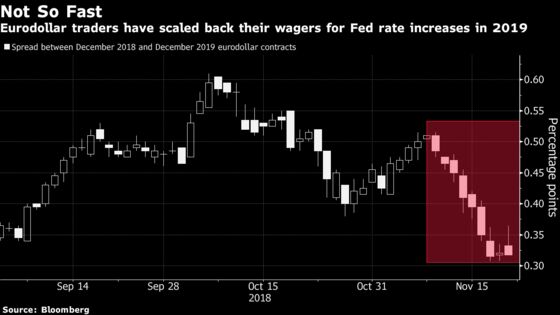 Derrick also said that, in contrast to the U.S. where stocks have been tumbling, equity markets in China "have actually experienced relatively benign conditions over the past few weeks."
The Shanghai Shenzhen CSI 300 Index is up around 2.6 percent since the end of October, whereas the S&P 500 gauge of American stocks has fallen 2.3 percent. The spot rate for the onshore Chinese yuan closed at 6.9314 against the greenback on Thursday, having weakened to 6.9780 per dollar on Oct. 31, a level unseen since 2008.