Powell Heaps Trump-Like Praise on Economy as Rate Hikes Loom
(Bloomberg) -- There's a powerful person in Washington besides the president who can barely contain his enthusiasm for the U.S. economy.
It's the man Donald Trump appointed to head the Federal Reserve and whom he's attacked for raising interest rates: Jerome Powell.
In what Fed watchers say was unprecedented four public appearances over the past week, Powell repeatedly lauded the economy's performance, calling it "remarkably positive," "extraordinary" and "particularly bright." And he said he expected the good times to continue.
"There's really no reason to think that this cycle can't continue for quite some time, effectively indefinitely," Powell said Wednesday at an event in Washington hosted by The Atlantic magazine and the Aspen Institute.
Investors seem to be getting the message. U.S. stocks flirted with fresh record highs and the yield on 10-year Treasury notes jumped to the highest since 2011.
A few minutes after the Institute for Supply Management's services survey was released, Trump tweeted: "Blowout numbers on New Jobs and, separately, Services. Market up!"
Powell leavened his rosy remarks on the economy with repeated reminders that the Fed was on track for continued gradual increases in interest rates.
But even on that score, the message was mostly a soothing one. Borrowing costs are still at levels that are providing support to the economy and probably will continue to be for some time.
"Interest rates are still accommodative, but we're gradually moving to a place where they'll be neutral," neither holding back nor spurring economic growth, Powell said. "We may go past neutral. But we're a long way from neutral at this point, probably," he added.
The Fed raised its interest-rate target range last week to 2 percent to 2.25 percent. Policy makers peg the long-run neutral rate at 3 percent, according to the median projection of officials released after last week's meeting. An updated dot plot of their rate forecasts shows them raising rates slightly above that level by the end of next year.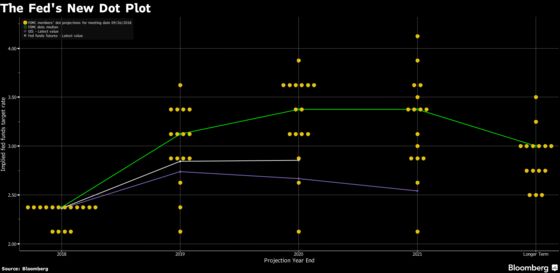 Breaking with decades of presidential precedence, Trump has repeatedly criticized the Fed in recent months for raising rates. His latest salvo came on Sept. 26, just hours after Powell and his colleagues boosted rates for the third time this year.
Asked by veteran television anchor Judy Woodruff for his response to Trump's outbursts, Powell replied, "My focus is essentially on controlling the controllable," eliciting laughter from the audience.
"We don't let other things distract us," the Fed chairman said, adding he didn't speak privately with Trump after the president's remarks. "We just try to do the right thing for the medium and longer term for the country."
The Fed chief said the central bank was trying to strike the right balance between jacking up rates too quickly, throwing the economy into recession, and raising them too slowly, allowing inflation to surge and asset bubbles to form.
Powell repeatedly made clear throughout the week that the Fed was not opposed to workers getting a bigger piece of the economic pie. He told Woodruff that he expects and would welcome a further acceleration in wage growth.
"Wages have been moving up, and that's in keeping with the tight labor market and we do expect that to continue," he said, adding, "we're pretty close to full employment."
Another positive job-market signal flashed on Thursday, with initial claims for unemployment insurance dropping near the lowest level in five decades.
A Labor Department report to be released on Friday is projected to show that unemployment dipped to 3.8 percent in September, matching the lowest level since 1969, according to the median forecast in a Bloomberg survey of economists. Average hourly earnings growth though probably eased to 2.8 percent from 2.9 percent in August, the highest since June 2009.
The Fed has completed a rate hiking cycle only once without triggering an economic downturn. In that case, in the mid-1990s, the job market wasn't nearly as tight as it is now and productivity growth was about to take off, thanks to the spread of the Internet.
This time, Powell seems to be counting on Americans' belief that the Fed will keep inflation in check to allow him to countenance a fall in the unemployment rate to levels not seen since the late 1960s.
"To the extent the public believes that central banks will keep inflation around 2 percent, which is one of our main jobs, that has tended to reduce the sensitivity of inflation to changes in unemployment," he said.
The current economic expansion is already the second-longest in history, trailing only the 10-year period of the 1990s. If it continues, it will surpass that upturn next year.
"The economy is strong, unemployment is near 50-year lows, and inflation is roughly at our 2 percent objective," Powell told business economists in Boston on Tuesday. "The baseline outlook of forecasters inside and outside the Fed is for more of the same."