Powell Gets Sharp Warning From Senator Over Fed Inflation Target
(Bloomberg) -- Jerome Powell confronted skepticism from Republican Senator Patrick Toomey on Tuesday when the Federal Reserve chairman explained why the central bank is undertaking a yearlong review of its approach to achieving its 2 percent inflation goal.
Low interest rates over the past four decades have made it more likely that the Fed's policy rate will drop to zero again during future recessions, Powell said, making it more difficult for the central bank to stimulate economic growth. That, in turn, may help lower inflation expectations, a force Powell called "the most important driver of actual inflation."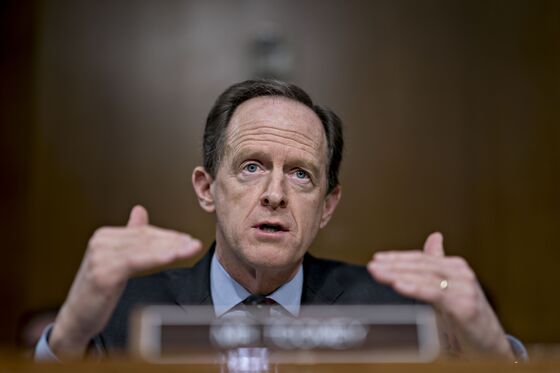 "We're trying to think of ways of making that inflation 2 percent target highly credible, so that inflation averages around 2 percent, rather than only averaging 2 percent in good times and then averaging way less than that in bad times," Powell said during his testimony before the Senate Banking Committee.
The Fed is charged by Congress with achieving maximum employment and price stability. It has interpreted that second goal as best achieved by always aiming for 2 percent annual inflation. The central bank has just embarked on a review of its policy framework and expects to publish conclusions in the first half of next year.
Some officials have proposed replacing the 2 percent target with a strategy that seeks to achieve average inflation of 2 percent over time. That would require the Fed to intentionally overshoot 2 percent to make up for periods when inflation ran below the objective.
Toomey responded to Powell's remarks with a warning.
"I understand the problem that you are wrestling with," he said. "I would just urge great, great caution on this for many, many reasons, not the least of which for whatever period of time the Fed decided it would exceed the goal so that it averages the goal, first of all during that period of time presumably you don't have price stability.''
Powell said there were "plenty of questions and concerns" to address in the review, but the central bank "owed it to the public to try to think our way through the best possible way to address that problem so that we can carry out our mandate."