Pound Slides After Carney Sounds Downbeat on Brexit Rebound
The pound fell to a two-week low as outgoing Bank of England Governor Mark Carney signaled that an interest-rate cut could still be on the horizon.
Sterling fell versus all of its Group-of-10 peers as Carney said in a speech that the central bank was debating the merits of near-term stimulus, adding that a rebound from Brexit uncertainty wasn't guaranteed and that U.K. economic growth was below potential. That led money markets to price in a higher chance of a BOE rate cut by the end of the year.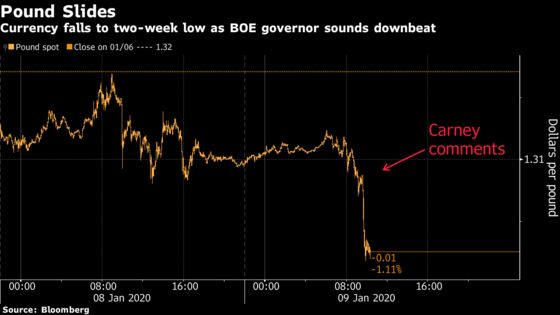 "The comments are a stark reminder that the U.K. and by implication the global economy are still quite fragile as they remain buffeted by geopolitical risks," said Valentin Marinov, head of Group-of-10 currency strategy at Credit Agricole SA. "The pound could remain vulnerable in the run up to the next policy decision at the end of January."
The pound fell as much as 0.6% to $1.3018, the lowest since Dec. 27. It also weakened as much as 0.6% to 85.28 pence per euro. The market now prices about a 60% chance of a BOE rate cut by December 2020, and a 15% chance of a move this month compared to just 6% a day ago.
The downbeat Carney comments strengthen the case for an interest-rate cut in the first half of 2020, and should lead to another leg higher in the euro-pound pair, according to Danske Bank A/S.
The pound's drop is a turnaround after posting its best quarter in a decade in late 2019, when optimism the Conservatives would win a decisive election majority and break the Brexit deadlock turned into reality. The euphoria has since given way to fears the U.K. won't be able to reach a trade pact with Brussels by the end of 2020.