Pound, Euro Rise to Multi-Year Highs on Brexit Hope, Weak Dollar
(Bloomberg) -- The pound and euro advanced to their highest levels in over two years as optimism the U.K. and European Union may reach a trade deal coincided with a weakening dollar.
Sterling gained as much as 0.7% to $1.3554, surpassing a high recorded on Dec. 4 to reach its strongest level since May 2018. The euro briefly rose above $1.22 for the first time since April 2018, boosted by stronger-than-expected economic data, which added to optimism the region's recovery is gaining traction.
Compounding the moves was a broad-based decline in the dollar. Bloomberg's gauge of the greenback fell a third day, the longest run in about two weeks, as risk sentiment improved and investors positioned for the Federal Reserve's policy decision later on Wednesday.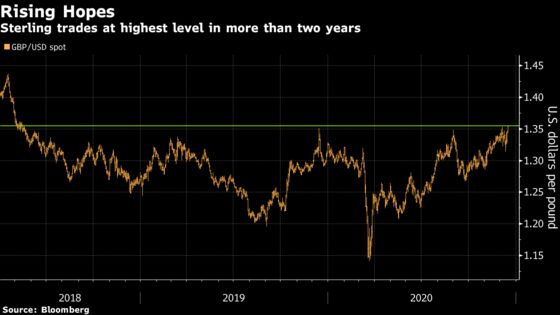 "It's a combination of positioning, Brexit and thin liquidity -- buy the rumour once more," said Kenneth Broux, a strategist at Societe Generale. "But the dollar is also broadly lower across the board before the FOMC."
The pound has been beholden to the twists and turns of Brexit trade negotiations as the year-end deadline for the U.K. and the EU to reach an agreement nears. With less than three weeks left to strike a deal, optimism is building again that the two sides are close to reaching last-minute accord.
U.K. government bonds fell amid the market's increased appetite for risk, with the yield on 10-year gilts rising as much as five basis points to 0.31% -- the highest in a week. Money markets, meanwhile, erased bets that the Bank of England will cut rates to 0% to support the economy, after wagering that such a move could happen as early as May 2021 last week.
The euro is on track for its best annual performance since 2017. The common currency is being bolstered by expectations that the monetary union will achieve greater fiscal integration, with the bloc implementing a landmark recovery fund aimed at steering the region's rebound from the coronavirus crisis.
The euro pared its advance to trade 0.3% stronger at $1.2189 as of 1:21 p.m. in London.