Pound Rallies as Javid Resignation Prompts Fiscal Speculation
(Bloomberg) -- The pound rallied while gilts fell after Chancellor of the Exchequer Sajid Javid resigned, causing speculation the U.K. may move toward more fiscal stimulus.
U.K. markets reacted after the country's finance minister quit after a face-to-face row with Prime Minister Boris Johnson inside 10 Downing Street. Javid's replacement with Rishi Sunak led to talk of increased government spending.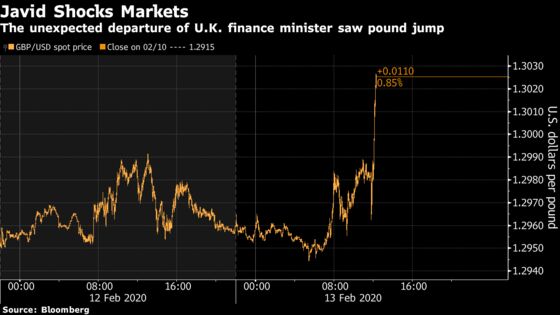 "We are now seeing a rally to a new high," said Adam Seagrave, head of global sales trading at Saxo Capital Markets U.K. Ltd. "This is presumably the market interpreting the announcement as Johnson wanting advisors who are more willing to back aggressive fiscal stimulus."
The pound traded up 0.7% to $1.3053 as of 4:00 p.m. in London, on course for its biggest gain this month. It climbed 1.0% against the euro to reach its strongest level since mid-December. Gilts fell to send 10-year yields up three basis points to 0.64%, bucking gains elsewhere in bond markets.
Nonetheless, some analysts noted the longer-term changes to British government spending remain unclear, perhaps making the move in U.K. government bonds overly-hasty.
"Gilt reaction may be on assumption Boris Johnson's office has a stronger hand on the fiscal tiller than thought, and that adherence to fiscal rules may become looser than Javid would have been prepared to countenance," said John Wraith, the head of U.K. rates strategy at UBS Group AG . "I very much doubt it will in fact have any material implications for near-term borrowing, investment and issuance numbers."
Still, with focus now turning sharply to Javid's successor, there is some evidence increased spending may be on the cards. Sunak, a former Goldman Sachs banker, was previously chief secretary to the Treasury, and is seen as an ally to Johnson. Paul Dales, chief U.K. economist at Capital Economics, said it's possible that the March budget will provide a "bigger bang" than forecasts, which are already predicting a sharp increase in spending.
"Sunak's previous votes in Parliament suggest his views are perhaps more aligned with those of the Prime Minister and his chief special adviser, Dominic Cummings, than Javid's," Dales said. "His voting history shows he's an ardent Brexiteer, supports reductions in corporation tax, cuts to capital gains tax and he's gone on the record as favoring infrastructure investment."