Pound Plunge Was Mere Prelude to What May Happen With No Deal
U.K. politicians got a first view Thursday of the financial market turmoil that may be triggered if they fail to approve the Brexit deal struck with the European Union.
It didn't look pretty. A drop of almost 2 percent in currency markets; banks, builders and utilities tumbling 5 percent or more; rising credit risks and a debt sale that was pulled -- these are the sort of moves that draw comparisons with emerging-market economies. And volatility markets point to the possibility of things getting much worse before they get better.
That rebuke may chasten lawmakers and ultimately force them into action, analysts say.
"The assumption that a Brexit deal will be reached and ratified by all sides has now been called into question," writes Lena Komileva, an economist in London at G Plus Economics. "For a deal to happen, the threat of a no deal has to become realistic, causing serious financial disruption, and a possible business and consumer confidence shock."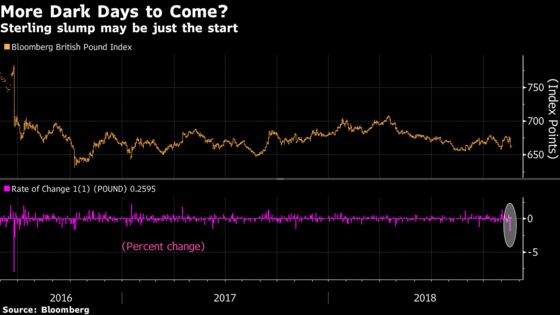 True, markets may take temporary solace in the leadership of Theresa May: sterling steadied during her defiant press conference on Thursday and advanced on Friday as pro-Brexit minister Michael Gove confirmed he wasn't resigning. Sterling recovered 0.3 percent to $1.2812, paring its decline for the week.
If she can hold onto the leadership of the Conservative Party, that may lift its fortunes, at least for a while.
But if lawmakers reject the deal, the currency vigilantes may re-emerge en masse over the low-liquidity Christmas period, ratcheting up pressure on a divided Parliament. Remember the 6 percent flash crash in October 2016 when the pound was pummeled in just one minute in thin Asian trading?
"It will take a brave Parliament to reject the economic security of an unpopular compromise arrangement for the uncertain alternatives that risk a damaging no-deal Brexit," David Page, a senior economist at Axa Investment Managers, wrote in a note. "Even now speculation mounts that if Parliament rejects a deal in December, a second vote could follow in February once alternative options have been explored and exhausted over the intervening months, that might yet accept such a deal."