Deutsche Bank Adds More QE to a Growing List of Pound Risks
The pound is sliding as souring economic data raise the prospect of an interest-rate cut as soon as this month. Deutsche Bank AG says that may just be the start of a longer easing cycle that piles extra pressure on the U.K. currency.
Not only does George Saravelos, the bank's London-based global head of currency research, see a decline in borrowing costs in January, he thinks policy makers may opt for a drop in March, too, and then possibly begin quantitative easing.
"Even if you get some election bounce, we don't think it's going to be sustained and the risk is the Bank of England has to do Q-eternity," Saravelos told Bloomberg Television's Francine Lacqua on Friday. In 2015, he was part of a team that forecast correctly that the pound would drop to its weakest level since 1985 in the following years.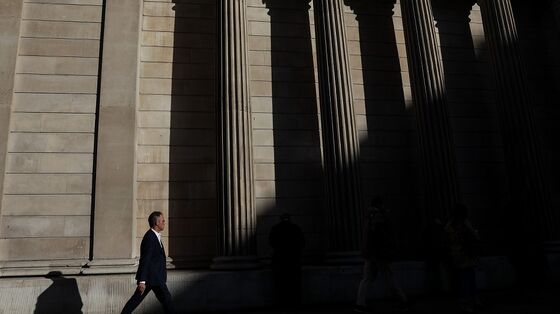 Sterling extended its decline against the dollar to as much as 0.4% after his comments, exacerbating a selloff that was triggered by an unexpected plunge in U.K. retail sales. The data increased bets the BOE may lower borrowing costs this month, with money markets pricing in a more than 70% chance of a cut on Jan. 30, up from 62% on Thursday.
Traders had been speculating that the central bank will ease rates at Mark Carney's last MPC meeting as BOE governor after a flurry of dovish comments from policy makers and a series of disappointing economic data releases.
That, coupled with fears of a chaotic divorce from the European Union, has overshadowed euphoria from the Conservatives' election victory in December and weighed on the pound this year.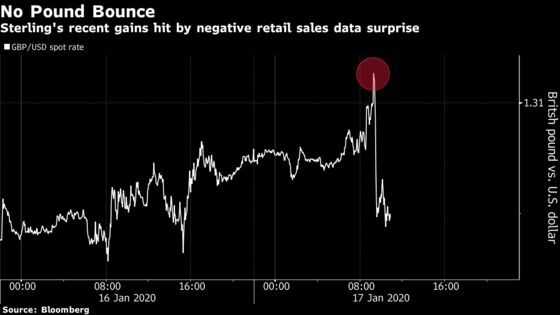 Saravelos said the pound appears overpriced and should be trading closer to 87 or 88 pence per euro, compared to about 85 pence on Friday. He added that the bank is negative on sterling.
"The economy is in recession, the data so far is pointing in that direction," Saravelos said. "If you look at the fundamental driver behind U.K. economic weakness, it has been Brexit. And the reality is Brexit uncertainty is not going to go away."
Starting from the aftermath of the financial crisis, the U.K. central bank bought a total stock of 435 billion pounds ($568 billion) of bonds in an effort to revive the economy. The BOE has leeway for any return to QE, with a self-imposed limit of buying 70% of outstanding gilts. The European Central Bank is able to purchase 33% of outstanding debt from qualifying member states.
Investors are now turning their attention to impending purchasing mangers' indexes for further signs of the BOE's direction.
Sterling retreated 0.3% to $1.3040 as of 2:45 p.m. in London. The yield on 10-year U.K. government bonds dropped a sixth day to 0.64%, on course for its longest falling streak since August.
"Clearly, there is a chance for a decent rebound of the PMIs next week and this may stay the BOE's hand," said Valentin Marinov, a strategist at Credit Agricole SA. "That said, following this week's weaker CPI and retail sales, the bar for stable rates is getting very high."
What Bloomberg Intelligence Says
"The BOE may run out of patience if PMI data next week don't see a decent bounce. There is low visibility as to whether growth will rebound after the election, so it may be best to risk manage receiving positions in GBP short-end rates given current pricing for a cut. The cross-market theme of gilts outperforming bunds and U.S. Treasuries remains."

-- Tanvir Sandhu, Chief Global Derivatives Strategist