Popularity of Indian Stocks This Decade Adds to Outflow Risk
(Bloomberg) -- Monsoon season may be over, but India's investors are at risk from a different kind of flood.
Indian stocks have been the biggest emerging-Asian beneficiaries of the wave of liquidity that swept over world markets in the wake of the global financial crisis, according to data compiled by Bloomberg. That may also make them the most vulnerable, now that the waters are receding.
Foreign investors have pumped a net $101 billion into the country's equities from the beginning of 2009 through the end of last quarter, Bloomberg calculations using cumulative year-end net investment flow data show. That's more than the combined offshore purchases of South Korean and Taiwanese stocks over the period. Thailand is the only emerging Asian market excluding China that has seen outflows.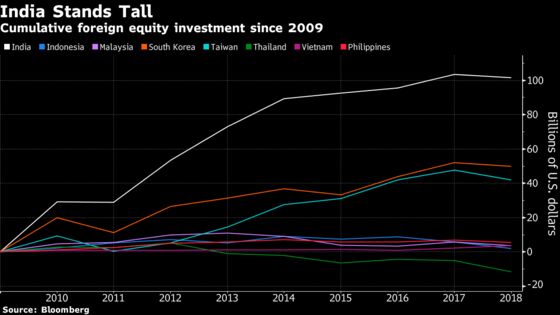 On a proportional basis, foreign purchases of Indian stocks amount to just over 5 percent of total market capitalization. Taiwan and South Korea are the only other emerging Asian markets where offshore investment totaled more than 3 percent of the market. By contrast, investment in Southeast Asian stocks has been relatively minuscule.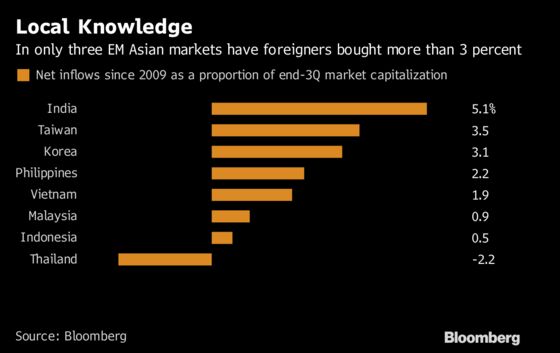 The flow data suggest that India's Sensex index, which has fallen around 13 percent from a high in late August, may be the most vulnerable to further outflows in the region if global risk aversion worsens. Foreign funds have pulled some $2.6 billion from the nation's stocks this month through Monday, according to exchange data.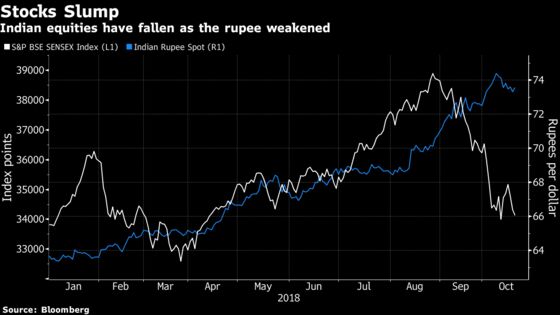 Indian stocks have been Asia's top performers until recently as investors flocked to the nation's securities, attracted by the fastest growth among major economies. However, surging oil prices, a plunging rupee and growing financial concerns about non-bank lenders have soured sentiment in the last couple of months. The Sensex benchmark index rose 0.3 percent as of 11:56 a.m. in Mumbai on Wednesday.