Polish Monetary Outlook Lurches From Tightening to Possible Cuts
(Bloomberg) -- It was just a few months ago that economists and investors were clamoring for Poland's central bank to raise interest rates this year. Now bets are shifting toward a cut.
Market watchers had long cast doubt on Governor Adam Glapinski's suggestion that almost five years of stable rates may stretch on for even longer. Until recently, they'd said policy makers were making a mistake by not hiking the benchmark to catch up with counterparts who've tightened around the world.
But with more signs of a slowdown creeping across the globe, some economists now say Poland's next step will be to embrace monetary loosening.
That's been backed up by Polish inflation, which slowed for a fifth straight month in January to stay at a two-year low. Annual price growth has hit the central bank's 2.5-percent target only once in the past six years and is unlikely to top that this year or next. Compounding that effect, growth in the European Union's largest eastern economy dipped below 5 percent in the fourth quarter from a year earlier, the first time since mid-2017.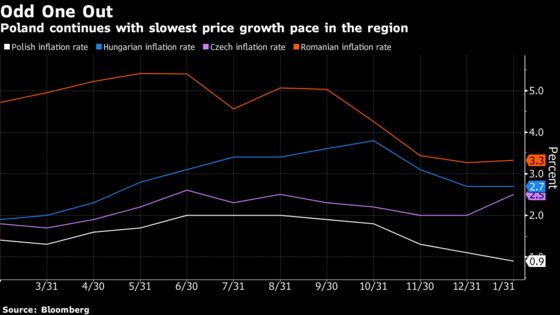 "The arguments, including growth prospects, low inflation, and a balanced economy, are definitely not indicative of a hiking bias," Mbank economists led by Ernest Pytlarczyk said. "Perhaps it's time to start inquiring about future easing."
While central banks from the U.S. Federal Reserve to regional peer Romania have stepped back from tightening campaigns, for Glapinski the probabilities of a future cut or hike appear more evenly balanced, according to comments he made this month. He also shortened his stable-rates outlook by two years to end-2020, which Citigroup said could be a sign of greater dovishness.
"In the context of weaker-than-expected data in Germany, as well as persistently low inflation, shortening the 'forward guidance' may suggest that the MPC is now perceiving a greater risk of rate cuts before the end of the term than it was in January," Citi's Warsaw-based senior economist Piotr Kalisz said in a note.
Forward rate agreements, which priced in a rate hike by mid-November, now show greater risk of loosening than tightening in the next twelve months
The zloty trails only the Argentinian peso and Romania's leu among this year's worst-performing emerging-market currencies against the euro with a 1-percent decline
A Polish bond rally has taken yields on the benchmark zloty 10-year debt to their lowest since 2016
Still, most banks see rates unchanged at least throughout 2020 and most likely until the end of the term of the Monetary Policy Council in 2022. The only exception is ING Groep NV, which expects the bank to cut in 2021. According to ING's Warsaw-based senior economist Piotr Poplawski, Polish rate-setters are "set on economic growth even more than on inflation," which may indicate a greater probability of a easing rather than tightening.