Polish Hike Seen 'Done Deal' on Inflation Spike: Decision Guide
Poland is expected to raise interest rates for a second month after central bankers surprisingly abandoned a pledge to keep borrowing costs on hold at least into next year. The only question is by how much.
With inflation at a two-decade high, Governor Adam Glapinski is under intensifying pressure -- including from the government -- to put a lid on rising prices. But he has refused to say whether the 40 basis-point increase in October was the start of a tightening campaign -- which would follow a scenario that's been playing out in the Czech Republic and Hungary.
Economists are almost all convinced that rates will rise at Wednesday's meeting. Of 30 polled in a Bloomberg survey, 16 expect the benchmark to climb a quarter point to 0.75%, while 13 anticipate a half-point. Only one respondent predicted borrowing costs will remain on hold.
The rate announcement is expected before 4 p.m. in Warsaw, when Glapinski is scheduled to hold a news conference. In past months, the 10-member Monetary Policy Council often took longer to debate as the governor addressed the media -- whether in person or by video -- only in the days following rate meetings. 
"The hike seems a done deal," said Piotr Matys, a senior FX analyst at InTouch Capital Markets Ltd who predicts a quarter-point increase. "This price growth could have a very negative impact on the economy in a long-term, so the focus should be entirely on the size of the hike and perhaps, even more importantly, on forward guidance to dismiss any doubts that the MPC is in a tightening cycle."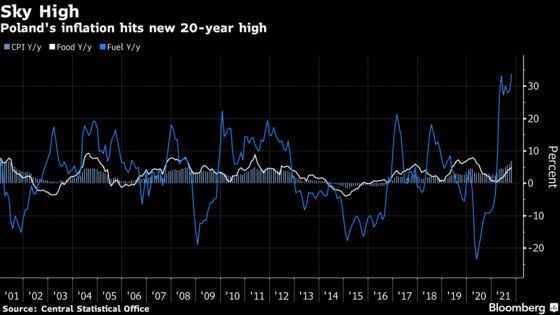 The decision comes amid uncertainty about the future of Poland's access to crucial financing from the European Union. At the moment, 36 billion euros ($42 billion) of pandemic aid has been put on ice because of a dispute over whether the nationalist ruling Law & Justice party is adhering to the bloc's democratic standards. 
Poland's rate increase last month was the first since 2012. It came after Glapinski's abrupt about-face at last month's policy meeting hours after Prime Minister Mateusz Morawiecki said he hoped the MPC would take "appropriate" action to tackle inflation.
On Wednesday, the government again voiced concern over spiraling inflation just as the MPC began its meeting. Spokesman Piotr Muller said the cabinet is working on an "anti-inflationary shield" to protect the poorest against rising consumer prices and that experts suggest that higher interest rates would help cool price growth.
Following its shock October decision, Glapinski insisted that any future moves must be "cautious" to avoid choking economic growth. But that was before data showed inflation had spiked to 6.8% from a year earlier last month, almost double the upper limit of the central bank's target range. 
Expectations of higher rates helped the zloty temper losses from earlier in the year, with the currency down by about 1% against the euro for all of 2021. On Tuesday, the yield on government two-year local-currency bonds rose above 2% for the first time since mid-2019.
"If the MPC intends to regain control over the narrative and firmly anchor inflation expectations of households and corporates, it should explicitly say that Poland is at an early stage of a tightening cycle with more hikes coming over the next 12 months or so," Matys said.