Poland Holds Rates as Central Bankers Bicker Over Fiscal Risks
Poland kept borrowing costs unchanged as the central bank tries to iron out differences over whether an $11 billion government fiscal stimulus plan will stoke inflation.
The bank held its benchmark rate unchanged at 1.5 percent on Wednesday, as economists predicted. Attention will now shift to the outlook after some members of the Monetary Policy Council broke ranks with Governor Adam Glapinski by suggesting the increased welfare spending and tax cuts may require interest-rate hikes as early as this year.
"The announced fiscal package is a clear inflationary risk," said Marcin Kujawski, an economist at Nomura International Plc in London. "Although our baseline scenario sees rates on hold until the end of 2020, the distribution of risks has clearly tilted to the upside."
The debate in Poland comes after the U.S. Federal Reserve paused hikes and the European Central Bank reactivated stimulus in reaction to the global economic slowdown. The ECB move poured cold water on expectations that the Czech central bank would raise rates last month, while Hungary confounded investors by remaining cautious in its first steps to unwind years of monetary stimulus.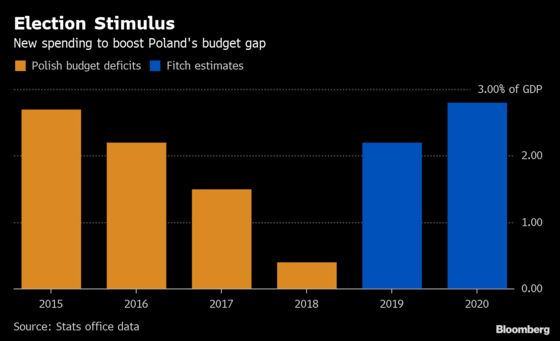 The risk is that the fiscal stimulus will boost a consumption boom and fuel price growth, even as economic growth is limited by a tight job market. Core inflation, which eliminates the most volatile items, may have hit a six-year high of 1.3 percent last month, according to analysts at PKO Bank Polski SA.
Headline inflation jumped to a five-month high of 1.7 percent in March, creeping into the central bank's 1.5 percent to 3.5 percent tolerance band. The bank's own inflation forecast predicts prices will rise 1.7 percent this year and 2.7 percent in 2020.
Glapinski said last month that the fiscal package will have no impact on interest rates, which he reiterated would stay on hold until 2022.
"It's impossible to predict today whether rates will stay on hold until the end of the MPC's term" in three years' time, said Jaroslaw Janecki, chief economist at Societe Generale SA in Warsaw. "Caution suggests discussing a shorter interest-rate horizon, rather than a longer one."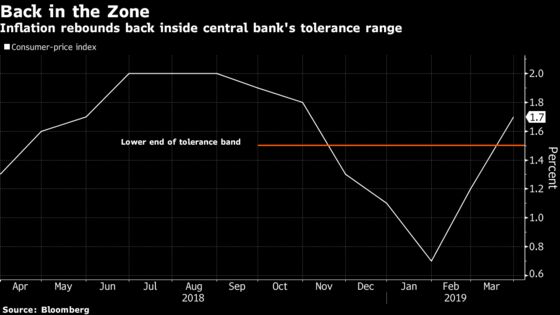 Half of the 10 MPC members have publicly discussed the possibility of raising rates for the first time since 2012 since February, when the government announced the stimulus. The plan is set to provide welfare spending and tax cuts worth nearly 2 percent of gross domestic product, with more election-year budget promises possibly in store as campaigning picks up for May's European Parliament elections and an autumn's general ballot.
"I'm no longer convinced we'd be able to guarantee the stability of rates in the face of such aggressive fiscal policy," MPC's Grazyna Ancyparowicz told Bloomberg last week. The other policy makers who raised the prospects of tightening are Jerzy Osiatynski, Lukasz Hardt, Eugeniusz Gatnar and Kamil Zubelewicz.
Forward-rate agreements, derivatives used to bet on interest rate levels in the future, show a bigger probability of a rate cut than a rate rise over the next 15 months -- showing "trust" in the scenario painted by Glapinski, according to PKO strategist Miroslaw Budzicki.
"As a consequence of this, even a slightly hawkish shift in rhetoric may push up the yield curve," he said.