Poland's Glapinski Says Rate Cut Possible in 'Critical' Scenario
(Bloomberg) -- Since he became Poland's central bank governor three years ago, Adam Glapinski has extended the outlook for how long official borrowing costs will stay on hold before eventual tightening. On Wednesday, he said for the first time that rates could theoretically go down.
"Of course, if the situation becomes critical we have scope to cut rates," Glapinski told reporters in Warsaw after a speech on Poland's economy. "Our recent analysis shows that there is room for maneuver."
Forward-rate agreements, derivatives used to bet on Polish interest rate levels in 12-months, have showed expectations for a hike in rates throughout 2017 and 2018, before switching to a higher likelihood for a cut this year. Glapinski's comments strengthened this trend on Wednesday, while the zloty remained little changed and bond yields declined.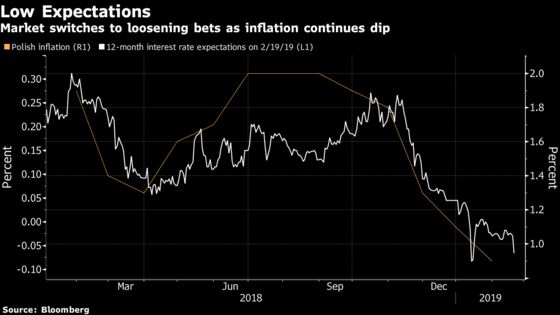 Glapinski's will to potentially cut the benchmark from a record low of 1.5 percent comes amid a trend of global central banks backing out of plans for tightening due to sputtering growth prospects. Two weeks ago, the governor shortened the horizon for keeping Polish rates on hold by two years to 2020.
With inflation at a two-year low and economic growth at a "still good" 3 percent to 4 percent this year, according to the governor, it's unlikely that developments will meet Glapinski's "critical" criteria.
"A rate reduction would require an economic slowdown below 3 percent, and an outlook pointing to persistent weakening," said Jakub Borowski, the chief economist at Credit Agricole Bank Polska SA. "At the moment, softening consideration is purely theoretical."