Polish Central Bank Vows 'Whatever It Takes' to Curb Inflation
Poland's central bank governor pledged to do "whatever it takes" to reign in inflation after policy makers surprised markets with a larger-than-expected interest-rate increase.
Inflation will peak at or above 7% in January, Governor Adam Glapinski said on Wednesday after the Monetary Policy Council raised the benchmark rate by 75 basis points to 1.25%, half a point more than predicted by the median forecast in a Bloomberg survey of analysts. The zloty gained 0.3% against the euro.
The central bank won't guide markets about future policy moves, Glapinski said. However, he appeared to contradict himself, saying that further rate increases can't be ruled out, and that a hike was more likely than no move in December. He declined to say if Poland was indeed in the midst of a tightening cycle.
"We will do whatever it takes to bring inflation back to the target in the medium term," he told a news conference, referencing former European Central Bank President Mario Draghi's famous statement about saving the euro. The bank's inflation target is 2.5% with a tolerance range of plus/minus 1 percentage point.
Polish inflation has become a hot political topic with the consumer price index surging 6.8% year-on-year in October, the fastest clip in two decades, piling pressure on Glapinski and the 10-member MPC to follow their regional peers in the Czech Republic and Hungary in raising official borrowing costs. 
Glapinski lectured uninterrupted for the first 55 minutes of his news conference, defending the central bank's decision to stand pat with its benchmark at a record low of 0.1% until October. He took reporters' questions for the next 12 minutes.  
Wednesday's hike, which returned the benchmark near its pre-pandemic level of 1.5%, followed Glapinski's surprise abandonment last month of a pledge to keep borrowing costs on hold into next year.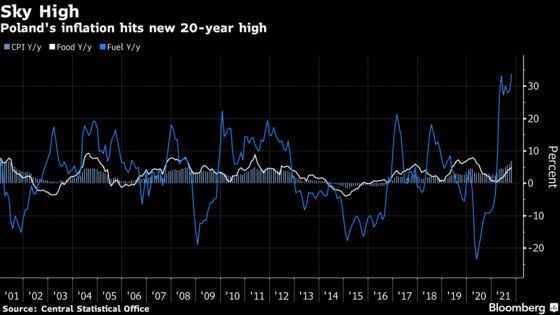 The rate increase signals that Polish policy makers are finally mounting a tough response to inflation. The yield on 10-year zloty government bond rose above 3% after Glapinski's remarks, the highest level since May 2019. 
"We have seen a lot of concern from market participants following on from the most recent inflation print," said George Harvey, director of emerging markets fixed income at ICAP. "The market still prices approximately a further 100 basis points of tightening over the next couple of meetings." 
Glapinski has come under pressure -- including from the government -- to put a lid on rising prices after arguing for months that the central bank should avoid choking off economic growth by raising rates.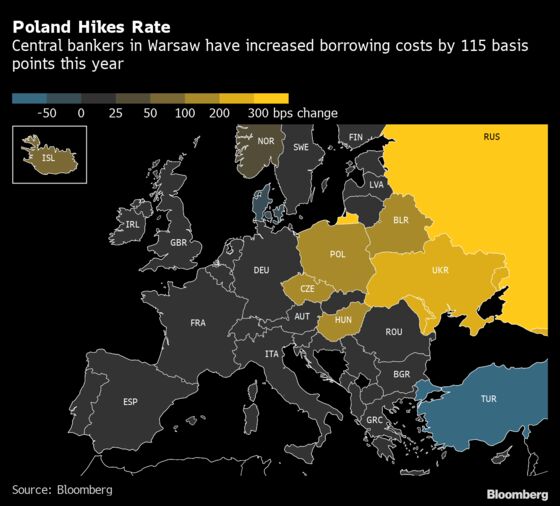 Speaking hours before the decision, a government spokesman voiced concerns over spiraling inflation and said the cabinet was preparing measures to protect the poorest Poles from the effect of rising prices.
The Finance Ministry predicts that annual inflation could hit 8% this year. The central bank's own projection on Wednesday showed prices could grow by between 5.1% and 6.5% next year.  
Spiraling inflation also led the leader of the main opposition party, Donald Tusk, to say Poland can't afford for Glapinski to stay on as governor when his term ends in the middle of 2022. Glapinski said on Wednesday he wants to stay on for another six years.
"Today, we took an action, which -- as you can see -- was stronger, and one that we hope will be correctly interpreted and will affect inflation expectations," Glapinski said. "We are watching what is happening."