Poland Must Hike If Inflation Tops Outlook, Ancyparowicz Says
Poland will need to raise interest rates further if inflation exceeds the central bank's new forecast, policy maker Grazyna Ancyparowicz said.
The nation's central bank, which had drawn criticism for its slow reaction to surging consumer prices, raised borrowing costs by the most in more than two decades Wednesday after new forecasts showed inflation would be more than double the official target of 2.5% next year.
"We're determined to act against such an excessive increase in prices," Ancyparowicz said in an interview on Thursday. "We have begun that action, and if price data don't show signs of any improvement, we'll need to continue."
The zloty extended gains after her comments, trading 0.2% stronger against the euro at 4.5950 at 9:02 a.m. in Warsaw.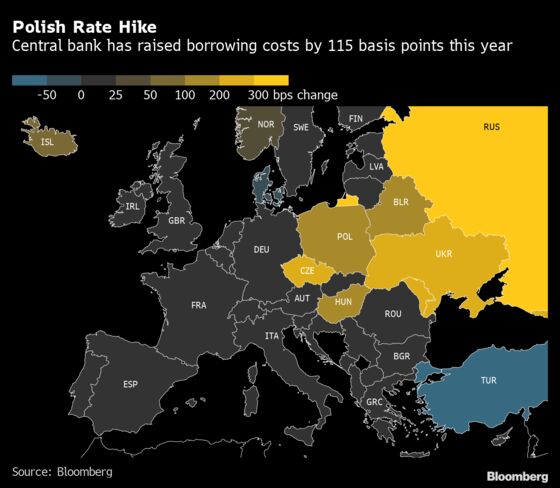 Bolstering the bank's U-turn on tightening, which started with a surprise rate increase in October, the new forecast projects that the economy will expand by almost 5% through 2023. That allayed concerns that higher rates may choke off growth and redirected policy makers' attention entirely to inflation, Ancyparowicz said.
Even as the coronavirus pandemic worsens, the government has ruled out new lockdowns, lowering the probability that companies will need another stimulus, she said. The central bank's latest projections show that inflation could grow by between 5.1% and 6.5% next year after peaking at or just above 7% in January.  
However, there's a growing probability that expectations of faster inflation will drive demands for higher wages. Poland's parliament also approved a pandemic recovery plan last week that aims to pump as much as 3% of gross domestic product into the economy via tax breaks, cash for families and other measures.
"The latter is going to create a huge inflationary impulse, and as such it's coming in a very unfortunate moment," Ancyparowicz said. "One can't really assess the plan's impact on the prices of goods and services."
The new urgency to embrace monetary tightening for the first time since 2014 comes in the final months of most of the Monetary Policy Council's term. Seven of the panel's nine members depart in March at the latest, while Governor Adam Glapinski's term expires in June.
That means it's difficult to say when the rate-hiking campaign may conclude, as it may fall to the MPC's new members, Ancyparowicz said. 
"It's difficult to give a more exact time frame, especially because our term is coming to an end," she said. "New policy makers may need to have to handle that further."