Polish Rate Delay and Looming Lockdown Fuel Talk of New Stimulus
(Bloomberg) -- The Polish central bank's decision to postpone an interest-rate meeting amid growing concern that additional lockdown measures may be needed is fueling speculation that policy makers are preparing more stimulus.
The central bank's press office confirmed a two-day delay in the Monetary Policy Council's session, now set for Friday. The news was broken by Bloomberg and the bank declined to give a reason for the change. The move comes as the bank's open-ended quantitative easing program is running out of steam and after the zloty weakened to a decade low against the euro last week.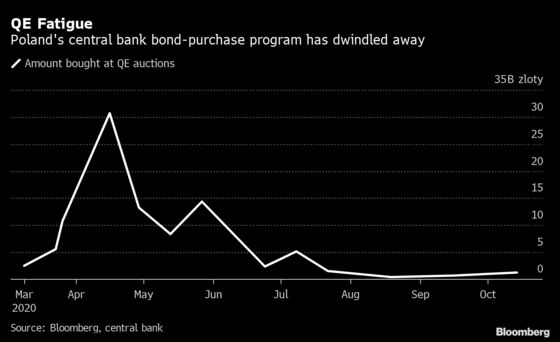 Despite a record surge in coronavirus cases over the past week, the government is in a bind over whether to implement strict lockdown measures as tough restrictions could be viewed as an unpopular tool to halt nearly mass protests against a near total ban on abortion. The cabinet is seeking to avoid reimposing a "hard lockdown" that would hit the economy, but isn't ruling out any options the prime minister's chief of staff said on Tuesday.
After announcing a stringent lockdown regime in April, central bank Governor Adam Glapinski -- standing next to Premier Mateusz Morawiecki -- pledged to do "whatever it takes" to keep the economy afloat and the two presented coordinated plans to provide liquidity and relief to businesses.
"This week's MPC meeting, which was regarded as nearly a non-event, is taking on significance amid lockdown concerns," said Miroslaw Budzicki, the chief economist at PKO Bank Polski SA, the country's biggest lender. The government and the central bank may be jointly preparing a new support program, he said.
A "symbolic" cut in Poland's benchmark interest rate, stuck at 0.1% since May, can't be ruled out, according to Budzicki. There may also be other loosening steps, such as new QE plans or a funding-for-lending program that worked in the U.K. and Hungary.
"It seems quite unlikely that MPC will slash rates below zero," Bank Pocztowy SA chief economist Monika Kurtek told Bloomberg. "It will rather expand its QE, probably adding more non-standard tools."
The central bank's QE auctions have slowed to a trickle amid ample liquidity by commercial lenders. Support programs for businesses, run by quasi-sovereigns, have also slowed but may rebound if a new lockdown hurts economic growth.
Speculation over a lockdown mounted after Jakub Kulesza, a lawmaker from from the opposition Konfederacja party, said that Morawiecki told politicians on Monday that he's likely to announce tougher restrictions on Wednesday.
"Until now we've managed to avoid it," Morawiecki's chief of staff, Michal Dworczyk, said about a full lockdown. "But future scenarios depend on the number of new virus cases and how fast they grow." He told the TVN24 broadcaster that he didn't hear a comment from Morawiecki to that effect but he didn't stay for the whole meeting.
Poland has shut most schools and universities, imposed restrictions on gatherings and limited the number of people in stores, while restaurants can operate in take-out only mode. The number of new virus cases and deaths increased on Tuesday, continuing to rise at a rate that risks overwhelming the health-care system.