Pimco Says China Trade Breakthrough 'Very Unlikely' Anytime Soon
(Bloomberg) -- One of the world's biggest money managers isn't buying optimism over a potential breakthrough in the U.S.-China trade dispute, even as emerging-market equities are poised for their biggest four-day rally since 2011.
In the span of days, Donald Trump and Xi Jinping went from lobbing additional tariff threats to talking on the phone -- and now, there are reports of U.S. officials being asked to draft terms for a potential trade deal. Risk sentiment in the developing world got a boost from the news, with the Shanghai Composite Index rallying for a fourth day. Emerging-market currencies jumped by the most since January 2017, led by gains in South Korea, India and Turkey.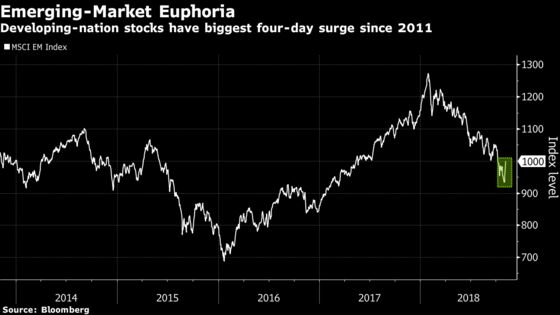 Yet Gene Frieda, global strategist at Pacific Investment Management Co. in London, says the posturing should be examined in the context of a deep-seated disagreement. Washington and Beijing have groused over everything from trade balances to intellectual property rights, cyber theft and industrial policies -- issues that aren't easily to solve in a hurry.
"When you look at the nature of the dispute, it's very unlikely we get a major breakthrough anytime soon," Frieda said Friday on Bloomberg TV.
Expectations of a potential trade accord were "so low" that any discussion between the two sides will be viewed positively by markets, he said. The Pimco strategist said U.S. stocks have greater downside risk, while investors may be overly pessimistic toward emerging-market and European equities.