Philippines Braces for Hazardous Volcano Eruption
(Bloomberg) -- The Philippines said there is an imminent threat of a hazardous eruption of the Taal Volcano, now rumbling and spewing ash and smoke just 65 kilometers (40 miles) south of the capital Manila.
Officials ordered nearby schools and government offices closed as they began to evacuate thousands, warning that as many as 200,000 people could be forced from their homes.
A "hazardous explosive eruption is possible within hours to days," the Philippine Institute of Volcanology and Seismology said in an advisory Sunday as it raised the alert status to level four from one in less than 12 hours.
Volcanic activity at the main crater had intensified accompanied by steam-driven eruptions and which led to tremors and earthquakes.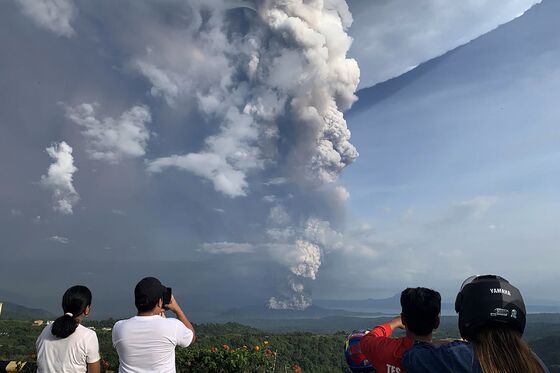 Ninoy Aquino International Airport, in Manila, suspended all flights "until further notice" as ash began accumulating on ramps and runways, airport officials announced. Nearly 170 flights have been canceled.
Encouraging private companies to do the same, President Rodrigo Duterte ordered the suspension of schools and government offices in Manila and its neighboring towns, cities and provinces.
Over 6,000 have been so far evacuated around Taal. This could rise to over 200,000 based on the contingency plan of Batangas province, which has said 11 of its towns and cities will be affected, according to Jovener Dupilas, information officer of Region IV-A's Office of Civil Defense.
He said evacuations have also started in some parts of Cavite, a province that also neighbors Taal.
"Our problem is access to affected areas," Dupilas said. "The ash fall is so thick and heavy that visibility is poor and some trees even fell."
Taal Volcano is a tourist attraction and is among the nation's most active volcanoes. The Philippines is one of the most disaster-prone countries in the world. Battered by about 20 typhoons annually, the country also sits on the "Pacific Ring of Fire" and is subject to earthquakes and volcanic eruptions.
Between 2000 and 2016, natural disasters in the Philippines caused over 23,000 deaths and affected 125 million people, according to the Asian Development Bank. The socioeconomic damage was about $20 billion with average annual damage at $1.2 billion, it said.
In 2018, tens of thousands were evacuated as Mayon Volcano, one of the Philippines' major visitor attractions because of its near-perfect cone, erupted. There are 24 active volcanoes in the Philippines, with Taal considered the second-most active.
In December, 19 people died after a New Zealand volcano island unexpectedly erupted in a forceful explosion of scorching steam, gas and ash.
The Philippine volcanology agency "strongly reiterates total evacuation of Taal Volcano Island and additional evacuation of areas at high risk to pyroclastic density currents and volcanic tsunami within a 14-kilometer radius from Taal Main Crater," it said.
"Civil aviation authorities must advise aircraft to avoid the airspace around Taal Volcano as airborne ash and ballistic fragments from the eruption column pose hazards to aircraft," the agency said.
The entire volcano island is a permanent danger zone and communities around the Taal Lake shore should take precautionary measures, as well as be vigilant in case of lake-water disturbances, the agency said in a previous advisory.
There's "danger that the affected area will be bigger than the island," Philvolcs Director Renato Solidum told radio station DZZM earlier. "Airplanes shouldn't fly through Taal and shouldn't land where there is ash or where the ash will be blown."