Philippines Puts Rate Hikes on Pause as Inflation Eases
(Bloomberg) -- The Philippine central bank left its benchmark interest rate unchanged for the first time in six meetings as inflation pressures eased and the peso strengthened.
The overnight reverse repurchase rate was held at 4.75 percent, Bangko Sentral ng Pilipinas said in a statement in Manila on Thursday, marking the first pause after 175 basis points of increases since May.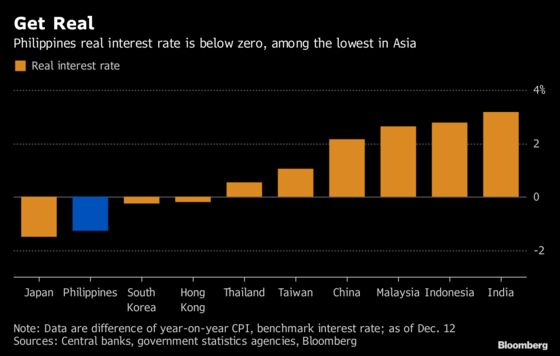 "Recent headline inflation readings indicate signs of receding price pressures as constraints on food supply continue to ease with the implementation of various non-monetary measures," the central bank said. "Inflation expectations have also steadied given the decline in international crude oil prices and the stabilization of the peso."
Governor Nestor Espenilla, who's undergoing treatment for tongue cancer, chaired the policy meeting but didn't attend the media briefing because of speaking limitations from his treatment.
All 18 economists surveyed by Bloomberg predicted the decision, after inflation slowed to 6 percent in November from 6.7 percent in October. Oil and rice prices have eased, while a transport fare hike was rolled back earlier in December
The central bank cut its inflation forecasts, estimating price gains to average 3.2 percent in 2019 and 3 percent in 2020. Its target is for annual inflation to average 2 percent to 4 percent until 2020. Inflation will probably be below 4 percent in the first quarter
While the peso is still down more than 5 percent against the dollar this year, it's recovered recently to be among the best performers in emerging markets this quarter
"BSP keeps policy rates unchanged as expected, with inflation decelerating and with expectations well anchored," said Nicholas Mapa, senior economist at ING Groep NV in Manila. "It affords the economy some breathing room. Just need those three factors -- slowing inflation, dovish Fed and slowing growth -- and if those stars align, its cut" in the benchmark rate by the second quarter and one more in the fourth quarter, he said.
What Our Economists Say...
Bangko Sentral ng Pilipinas is leaving the door open for further rate hikes, but they also sound confident about hitting the inflation target next year. Also, BSP sounds sanguine about the persistent increase in core inflation, which suggests they may be inclined to look through it.

-- Tamara Henderson, Bloomberg Economics
President Rodrigo Duterte is boosting spending on roads and railways to help shield the economy from the impact of rising prices and higher borrowing costs. Growth eased to 6.1 percent in the third quarter, the weakest since 2015
See this chart for how fuel prices have declined