Philadelphia Fed Factory Gauge Sizzles Along With Price Gauge
(Bloomberg) -- The Federal Reserve Bank of Philadelphia's latest survey of factories showed conditions in the region jumped in March to the highest level since 1973 as orders and shipments improved, while a measure of prices paid for materials soared to a 41-year high.
The general activity index surged by 28.7 points to 51.8, according to a report Thursday. That well exceeded all forecasts in a Bloomberg survey of economists whose median projection called for a reading of 23.3. Readings above zero indicate expansion.
The Fed bank's gauge of prices paid increased to 75.9 from 54.4, while an index of prices received by the region's manufacturers rose by 15.1 points to 31.8 in March.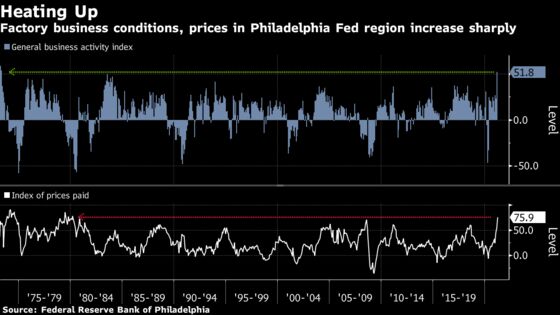 More factories reported increases in orders, shipments and the number of employees. The index of bookings was the second-highest in data back to 1968.
In response to special questions from the regional Fed bank, almost 54% said they have boosted wages to address skilled-labor shortages.