PepsiCo Tests Ancient India River Route as Modi Pushes Waterways
(Bloomberg) -- India's first inland voyage by a container ship since it gained independence from Britain 70 years ago ended when the vessel docked in the holy city of Varanasi today, a development officials hope will help shift cargo from the country's congested road and rail networks.
The 1,390 kilometers (863 miles) Ganga watercourse is one of the 111 waterways spanning 20,276 kilometers that India is reviving or planning to build. The World Bank-assisted Ganga waterways project -- costing 53.7 billion rupees ($738 million) -- will enable the commercial navigation of vessels and is set to be completed by 2023.
Transforming country's waterways could be a game changer for India as it will reduce the cost of transportation -- 50 percent less than highways -- as well as easing congestion on roads. The move is designed to encourage companies such as NTPC Ltd., India's biggest power producer, Maruti Suzuki India Ltd., the nation's No. 1 carmaker, Fertilizer Corp. of India Ltd. and Tata Chemicals Ltd. to use waterways to move cargo from cement to cars.
Shifting to water-based cargo transport should have happened at least 15 years ago, said K. Murali, professor at the National Technology Centre for Ports, Waterways and Coasts in the Indian Institute of Technology, Madras. "Over time it will pick up steam to become more economical and more sought after mode for shifting cargo -- there will be certain cargo which will have preference to move in waterways."
The vessel that sailed from eastern city of Kolkata on Oct. 30 was carrying food and snacks of PepsiCo Inc. in 16 containers, which is the equivalent of 16 truckloads. The Inland Waterways Authority of India vessel will make its return journey with fertilizers from Indian Farmers Fertilizer Cooperative Ltd.
To promote inland waterways, Prime Minister Narendra Modi's administration has started dredging channels, building terminals and adding barges and has now set about convincing companies to use them. Modi was in Varanasi -- which is also his parliamentary constituency -- to receive the vessel and inaugurate the new terminal.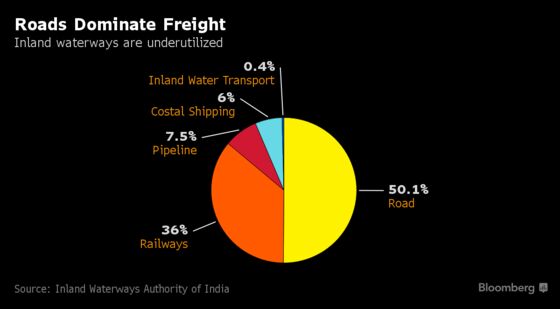 Still, India need to overcome challenges including night-time navigation, maintaining consistent water levels and creating more infrastructure, said Murali. India's first container cargo movement "will provide some momentum to the industry to boost commercial activities, social development and curb carbon footprints, among others" he said.
Modi's administration also has plans to integrate coastal and inland waterways. His government has unveiled a $34 billion plan that aims to develop ports along India's 7,500-kilometer coastline.
The movement of container in Ganga watercourse "is a significant milestone in the development of the inland waterways," an official from PepsiCo said in an email.
The share of goods transported via India's inland waterways is less than one percent, compared with 42 percent in the Netherlands, 8.7 percent in China and more than 8 percent in the U.S.
"Inland water navigation is an underutilized infrastructure in India," said D. Dhanuraj, chairman, Centre for Public Policy Research, Kochi. While the government is trying to change this situation, the development of inland waterways and port projects has been slow, because "challenges are very high."