Penguin Colonies Are Shrinking in Antarctica Due to Climate Change
(Bloomberg) -- Chinstrap penguins are declining fast in Antarctica, and researchers are blaming climate change.
Every single colony of chinstrap penguins on Elephant island in the Antarctic peninsula has shrunk from the last time it was surveyed five decades ago, according to the environmental group Greenpeace.
Scientists on board of a Greenpeace expedition to Antarctica found that the number of penguins on the island has dropped almost 60% since the last survey in 1971. Some colonies were down by as much as 77%.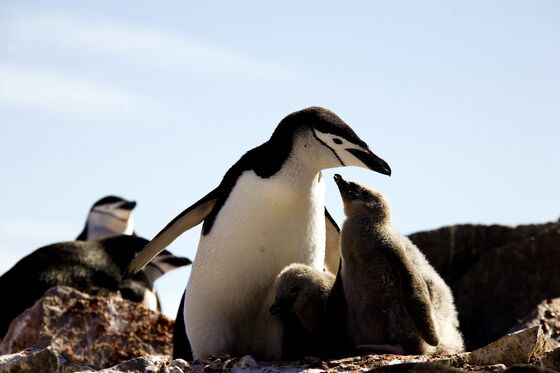 "Such significant declines suggest that the Southern Ocean's ecosystem is fundamentally changed from 50 years ago," said Heather Lynch, associate professor of ecology and evolution at Stony Brook University and one of the leaders of the expedition. "While several factors may have a role to play, all the evidence we have points to climate change as being responsible for the changes we are seeing."
Antarctica is among the world's fastest-warming regions. The Antarctic Peninsula, home to numerous chinstrap penguin colonies, is warming particularly quickly, according to the World Meteorological Organization. Argentine scientists reported the highest temperature recorded at the nearby Esperanza base last week —18.3 degrees Celsius, or 65 Fahrenheit. 
WMO experts are investigating whether the temperature extreme at Esperanza is a new record for continental Antarctica's landmass. Signy Island in the Antarctic region, which includes land south of 60 degrees latitude, recorded an all-time high temperature of 19.8 Celsius in January 1982. The average annual temperature ranges from about minus 10 Celsius on the Antarctic coast to minus 60 Celsius at the highest points in the interior.
Chinstrap penguins are one of the most common species of the animal in Antarctica. They take their name from a characteristic black line running below their beak. Researchers on the Greenpeace expedition counted a total of 52,786 breeding pairs this season, down from previous survey estimates of about 122,550. 
Scientists are surveying the penguins toward the end of their breeding season. Chinstrap penguin chicks tend to hatch in early January and remain in the nest until early February. Then they join so-called creches, or groups of young penguins, for warmth and protection while their parents forage, typically from late March through October. 
This year, scientists from Stony Brook University in New York and Northeastern University in Boston, Massachusetts, are surveying penguin colonies using manual and drone surveying techniques on Low Island, further south, for the first time. The island is thought to host around 100,000 breeding pairs of chinstrap penguins.