Singapore Warns the World May Split Into Rival Blocs
(Bloomberg) -- Asian leaders were all set to kick off regional meetings in Singapore on Wednesday. We follow the events here.
Singaporean Prime Minister Lee Hsien Loong opened the Association of Southeast Asian Nations summit with a warning that seemed directed at U.S. President Donald Trump, saying major powers were "resorting to unilateral actions and bilateral deals and even explicitly repudiating multilateral approaches and institutions." "It is unclear if the world will settle into new rules and norms of international engagement, or whether the international order will break up into rival blocs," he said.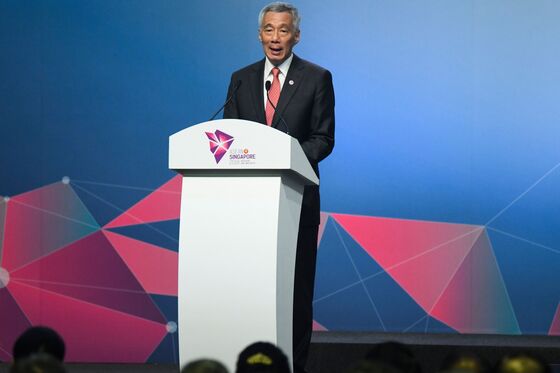 In an interview with the Washington Post, Vice President Mike Pence said the U.S. is ready to escalate pressure on Beijing if it doesn't offer concessions on several fronts.
The Australian newspaper reported that the U.S., Australia, Japan, South Korea and New Zealand plan to announce funding for a multibillion dollar electric-power and Internet infrastructure program for Papua New Guinea. Earlier this week, financing agencies from the U.S., Japan and Australia signed an agreement to "catalyze Indo-Pacific investment projects that produce quality infrastructure, increase connectivity, and promote sustainable economic growth."
Wednesday's Schedule (Local Times):
8:45 a.m. - Asean-Australia informal breakfast
9:30 a.m. - Asean-China summit
10:40 a.m. - Canada-China leaders dialogue
12:15 p.m. - Lee hosts working lunch for Asean leaders and guests
1:30 p.m. - Russian President Vladimir Putin meets Thai Prime Minister Prayuth Chan-ocha
2 p.m. - Asean-Russia summit
2 p.m. - Canadian Prime Minister Justin Trudeau addresses Fintech Festival
3:30 p.m. - Asean-Japan summit
4 p.m. - Putin meets South Korean President Moon Jae-in
5 p.m. - Summit on Regional Comprehensive Economic Partnership
6 p.m. - Japanese Prime Minister Shinzo Abe meets Putin
7 p.m. - Lee hosts gala dinner; family photo
Asian nations gave up hopes of completing a 16-nation trade bloc this year, with Chinese and Australian officials now looking to finalize the deal in 2019.
China and the U.S. could find a solution to their trade differences that benefits both sides, Premier Li Keqiang said. His comments came after a phone call between U.S. Treasury Secretary Steven Mnuchin and Vice Premier Liu He.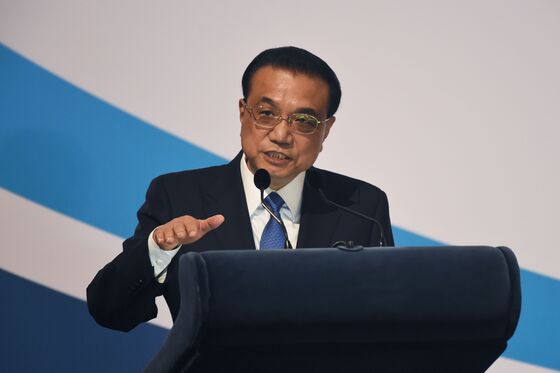 U.S. National Security Adviser John Bolton told reporters in Singapore that the administration had found support in the region for a more visible American military presence, such as "freedom-of-navigation" patrols to push back the disputed territorial claims of China and others.
Bolton also said that people who have heard a recording of Saudi columnist Jamal Khashoggi's murder in Turkey last month say it doesn't link Saudi Crown Prince Mohammed Bin Salman to the assassination. And he vowed the administration would squeeze Iran "until the pips squeak."
Trade tensions were evident during a press briefing with Pence and Japanese Prime Minister Shinzo Abe in Tokyo. Pence criticized the U.S. trade deficit with Japan, and said American products "face too many barriers to compete fairly in Japanese markets." Abe said Japan was seeking expanded trade with the U.S. to benefit both sides.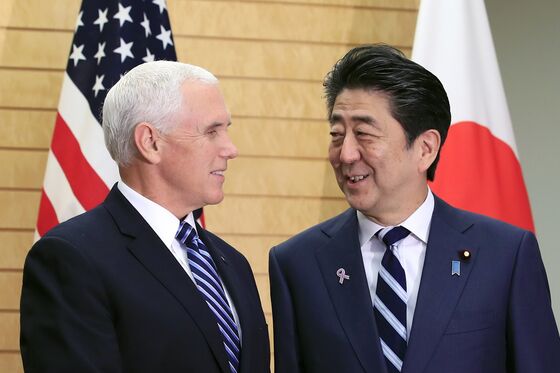 Earlier, Pence reaffirmed support for the U.S.-Japanese alliance while meeting Abe, saying he sent warm regards from Trump. Abe, for his part, said the alliance was stronger than ever.