Pence Courts Asian Allies in Pushback to China: Summit Update
(Bloomberg) -- As Southeast Asian summits wrap up in Singapore on Thursday, world leaders will begin making their way to Papua New Guinea for the start of Asia-Pacific Economic Cooperation events. We follow the events here.
U.S. Vice President Mike Pence warned there was no place for "empire and aggression" in the Indo-Pacific in his opening remarks to the U.S.-ASEAN Summit Thursday morning. Pence, who's representing President Donald Trump at the Association of Southeast Asian Nations summits, said U.S. commitment to the region was "steadfast and enduring." Trump's absence from the meetings has fueled growing skepticism about the administration's commitment to Asia amid widening Chinese influence.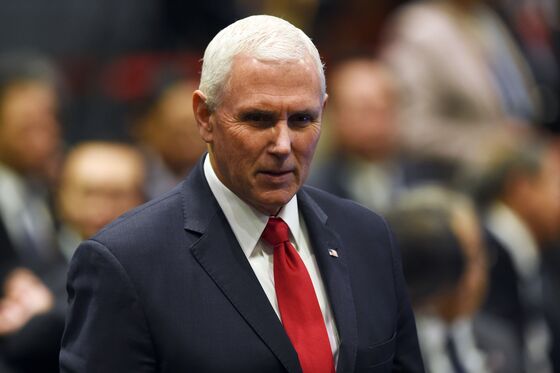 New Zealand Prime Minister Jacinda Ardern sat next to Pence at a gala dinner in Singapore Wednesday night, where both are attending the summits, and said she pushed the case for free trade. "I use every opportunity I can to promote the benefits," she told Bloomberg Television on Thursday. "For us, maintaining that rules-based order is incredibly important."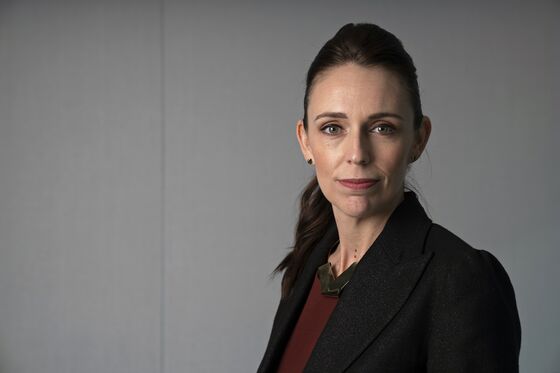 Russian President Vladimir Putin and Japanese Prime Minister Shinzo Abe agreed to speed up talks on resolving a dispute over four islands that's prevented their countries from sealing a peace treaty since World War II. The leaders, who met at the Asean summit, have met 23 times since 2012 to try to make progress in resolving the issue.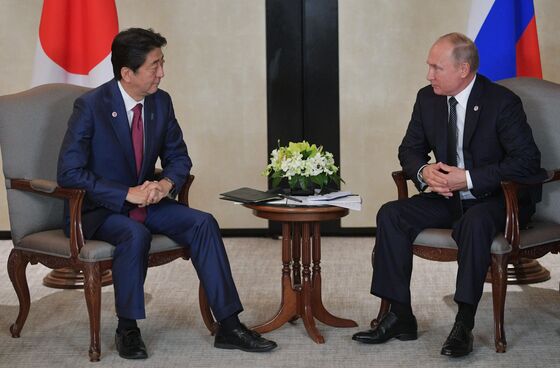 Top officials from Australia, India, Japan and the U.S. -- the so-called "Quad" -- plan to meet Thursday on the sidelines of the Asean summits. The group's revival last year is intended to maintain the balance of power in Asia amid Beijing's increasing military and economic influence. Chinese President Xi Jinping will attend APEC, which kicks off Friday in Papua New Guinea.
Thursday's Schedule (Local Times):
11 a.m. - Pence and South Korean President Moon Jae-in meet
11 a.m. - Asean+3 summit
11:15 a.m. - Canadian Prime Minister Justin Trudeau participates in a talk on Canada-Asian relations at the National University of Singapore
11:20 a.m. - Bloomberg TV interviews Canadian trade minister Jim Carr
12:30 p.m. - East Asia summit lunch
2 p.m. - East Asia summit plenary session
4:20 p.m. - Abe meets with Indonesian President Joko Widodo
4:30 p.m. - Trudeau briefs the press
4:30 p.m. - Pence meets with U.S. embassy staff
4:40 p.m. - Abe-Ardern meeting
5 p.m. - Closing ceremony, handover to Thailand
5:30 p.m. - Abe meets with Philippine leader Rodrigo Duterte
6 p.m. - Singaporean Prime Minister Lee Hsien Loong briefs on Asean events
6 p.m. - APEC CEO summit welcome reception in Papua New Guinea
Pence told Myanmar's Aung San Suu Kyi that using violence against the country's Rohingya Muslims was "without excuse." In a tense exchange outside the Asean summits, Pence relayed U.S. concerns about human rights abuses.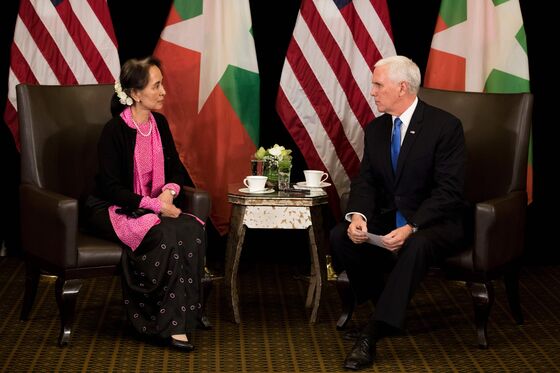 Moon is "actively considering" inviting North Korea's Kim Jong Un to an Asean-Korea special summit next year, spokesman Kim Eui-keum said. Moon said he would discuss the issue with other Asean nations before any invite.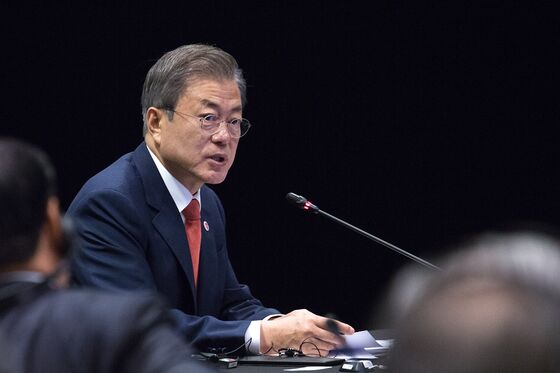 Pence praised Indian Prime Minister Narendra Modi for his support of a "free and open Indo-Pacific," in the U.S.'s latest effort to court the world's most populous democracy as a regional counterweight to China. And he reaffirmed the U.S.'s commitment to a "free and open" South China Sea during a meeting with Vietnamese Prime Minister Nguyen Xuan Phuc.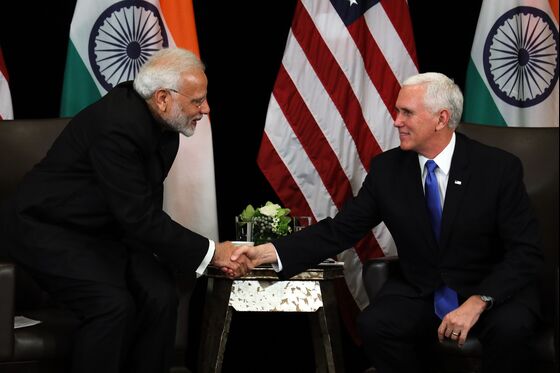 Asian nations gave up hopes of completing a 16-nation trade bloc this year, with Chinese and Australian officials now looking to finalize the deal in 2019.
China and the U.S. could find a solution to their trade differences that benefits both sides, Premier Li Keqiang said.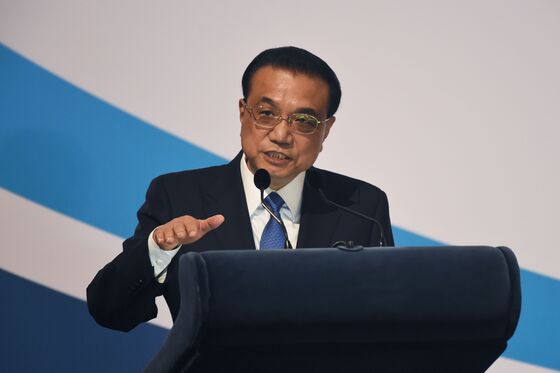 In an interview with the Washington Post, Pence said the U.S. was ready to escalate pressure on Beijing if it didn't offer concessions.
U.S. National Security Adviser John Bolton said the administration had found support in the region for a more visible American military presence.
Singapore's Lee opened the Asean summit Tuesday with a warning that seemed directed at Trump, saying "It is unclear if the world will settle into new rules and norms of international engagement, or whether the international order will break up into rival blocs."