How China's Peer-to-Peer Lending Crash Is Destroying Lives
(Bloomberg Businessweek) -- "I am too small to fight them," a 31-year-old woman from Zhejiang province, China, wrote in a note to her parents in early September after losing almost $40,000 when an online peer-to-peer lending firm went bust. "A state-backed P2P just ran away, its shareholder unwilling to take any responsibility, investigators are dragging their feet. I am too tired and cannot see any hope." The woman then hanged herself. Her death and her letter were chronicled in chat group posts on the social media site Weibo.
Hundreds of others who say they were victims of the same company, PPMiao, came to Shanghai to protest in late August, only to be turned back by police and security guards outside the International Finance Centre, where a firm connected to the lender has an office. "We lost everything, and I have tuition coming due for my 3-year-old son's kindergarten next month," said one man, who gave his name only as Chen before being put on a police bus and sent home to his farm in Jiangxi province, 14 hours away by train.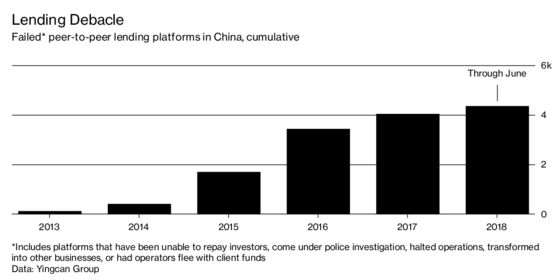 As many as 4,000 people have lost as much as $117 million as a result of the failure of PPMiao, according to savers who say they were burned, and many of them have been coming to China's major cities seeking restitution. More than 400 peer-to-peer lending platforms collapsed from June through August, according to Shanghai-based researcher Yingcan Group. That still leaves about 1,800, a number Chinese investment bank China International Capital Corp. expects to contract to fewer than 200 after more dominoes fall. "It's amazing how quickly it's unraveling," says Zennon Kapron, managing director of Shanghai-based consulting firm Kapronasia. "We're just at the start of what could be a very messy reconciliation in the P2P industry."
Peer-to-peer lending in the U.S., by firms such as Prosper Marketplace Inc. and LendingClub Corp., is but a drop in the American investment ocean. In China, it has attracted 50 million savers—more than the populations of New York State and Texas combined—who have sought returns of 10 percent or more, double what they can get from a bank. The total investment amount outstanding soared to a record $200 billion in June.
The government has been seeking to increase control over what has been a largely unregulated business, one part of a vast collection of financial companies outside the traditional banking sector known as shadow banks. Earlier in the summer, the agency that regulates banking warned savers using P2P sites that they should be prepared to lose all of their money. Although not all troubled P2P platforms are accused of fraud, officials have said many failed sites needed cash coming in to pay money out; in other words, they were Ponzi schemes. Other sites attracted investors for only a few weeks before the owner ran away with the money.
Online lending became popular in China after a tightening of bank credit in 2010 followed two years of stimulus spending to counter the global financial crisis. In 2012, total loan volume was less than $1 billion. Then, you could easily find a young couple looking for others to invest in their wedding: Loan them money now for their banquet and honeymoon down payments, and they'll pay you back with interest after they collect their wedding gifts of cash. Small businesses sought loans to buy new machinery, pledging to pay back when production increased.
These days, P2P sites offer investments in what's called commercial bills, or "bankers' acceptances," which are like short-term bonds issued by small businesses. Such bills, issued by companies and guaranteed by commercial banks, are usually part of business transactions, and a bill can be sold to another financial institution or to the central bank before it matures. In some cases involving allegedly fraudulent P2P platforms, investors have claimed that the underlying bills didn't exist and the money never went where it was intended. "The risks on a lot of these platforms were not adequately communicated to investors," says Kapron, who cites "guaranteed return plus principal" as the typical offer to investors. "It was unsustainable."
That was the case with Quark Finance, which collapsed on Aug. 25. Shanghai police said the founder turned himself in and confessed that he had been siphoning deposits illegally. The company had $556 million of outstanding unpaid loans as of July, while cumulative transactions on the platform totaled $2.3 billion. A statement on its website said it has been cooperating with the police investigation. Police said they were calling on victims to report to their local authorities and to refrain from gathering in protest.
As PPMiao began to fail this summer, it changed its legal address from Hangzhou, a city near Shanghai, to a residential development in Nanning, 900 miles away, close to the Vietnam border. On Aug. 6, it stopped paying investors and announced it was closing because of a run on the platform. It said it planned to repay investors over the next three years. "We tried our best, to little avail," PPMiao said in the statement. "We promise we won't run away, we won't become unreachable, we will get our money back to repay investors batch by batch." Some investors who were owed less than $1,500 have since been reimbursed. Calls from Bloomberg to the contact numbers listed on the statement went directly to voicemail and weren't returned.
The Chens, who traveled to Shanghai that month to protest after investing a total of $23,000 of their and their families' money, had first gone to Hangzhou, where they were intercepted by police who told them the case was being investigated and they would have to wait. They then went to Shanghai to protest at the office of HuaAn Future Assets, an asset-management unit of HuaAn Fund Management Co., which they and other investors believed to be one of three companies that owned PPMiao. HuaAn is a private company, but some of its biggest shareholders are state-owned entities.
HuaAn issued a statement on the day of the would-be protest saying it had invested in the company that owned PPMiao on behalf of an asset-management client. It also said later that neither this company nor the client had disclosed its links to the P2P lender. HuaAn "is deeply sympathetic of all the victims and will actively work with police on any investigation," the statement said.
For the woman from Zhejiang, whose family could not be reached to verify her name and details of her story, those promises were too little, too late. "Don't be sad," she wrote in her note to her parents. "I am leaving, but your lives need to continue. I just lost confidence in life in this society. I am not afraid of death, but I am afraid of living."
--With assistance from Jun Luo, Sheridan Prasso and Dong Lyu.
To contact the editor responsible for this story: Robert Friedman at rfriedman5@bloomberg.net, Pat Regnier
With assistance from Editorial Board