PBOC's Record Liquidity Forbearance Seen as Sign of Credit Woe
(Bloomberg) -- While there are mounting signs that China's economy is slowing further this quarter, the central bank has held off on regular liquidity injections for a record stretch this month -- an apparent anomaly given policy makers' focus on sustaining credit flows.
The People's Bank of China on Friday held off on any reverse-repurchases for a 26th straight session, the longest run since daily operations began in 2016. The PBOC has cited "plentiful" liquidity and a high level of fiscal spending as reasons for not needing to pump short-term funds into the system.
There's a deeper concern though -- that the ample cash probably reflects in part commercial banks' reluctance to use their balance sheets to fund fresh lending to companies, in turn curbing the outlook for growth.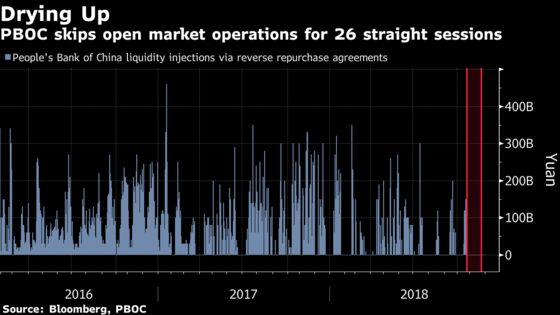 Previous PBOC-injected liquidity "hasn't translated into accelerated loan growth," analysts at Beijing research group Trivium wrote Wednesday. "Instead, it appears to have largely been reinvested in money markets. That makes liquidity more abundant than the PBOC intended -- with no follow-through to the real economy -- so there is no need to add more now."