Payrolls in Carolinas Drop by Most Since 2009
(Bloomberg) -- Employment in North Carolina and South Carolina fell in September by the most since 2009 amid business disruptions from Hurricane Florence, Labor Department figures showed Friday.
The seasonally-adjusted drop of 21,900 jobs in North Carolina -- representing a 0.5 percent reduction in employment -- was the largest of any state, followed by a 14,500 decline in South Carolina. The decreases were most concentrated in the leisure and hospitality sector.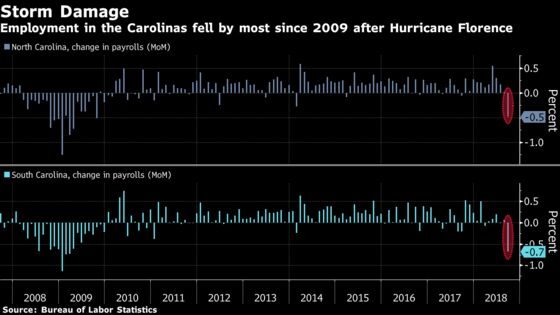 The numbers illustrate the impact of the storm, which made landfall Sept. 14, and add detail to national figures earlier this month showing a 134,000 gain in U.S. payrolls in September. Economists have said that any weather-related distortions to payrolls and other economic data will prove temporary, while the overall labor market remains tight. Hurricane Michael, which made landfall in the Florida panhandle this month, may also impact hiring figures.
Jobless rates fell from the prior month in nine states, rose in four, and were stable in 37. Compared with a year earlier, 16 states had lower unemployment rates.