Path to Euro Gets Even More Complicated for Latest Hopeful
(Bloomberg) -- Bulgaria's efforts this summer to lock a course toward euro adoption suffered a setback as its bid was met with additional demands. Even as it addresses those, another potential roadblock is coming into view.
Inflation zoomed up to a five-year high of 3.6 percent in September and is increasingly outpacing the euro area, data released this week showed. While the government predicts a slowdown, there's concern that price growth will top the currency bloc's entry requirement, particularly as the Black Sea nation seeks to quickly close the wealth gap to its richer peers.
"The fears are that Bulgaria won't meet the euro area criteria, which it was so proud to have covered," Desislava Nikolova, chief economist at the Institute for Market Economics in Sofia, said by phone. "As a catch-up country, Bulgaria has a risk of higher inflation."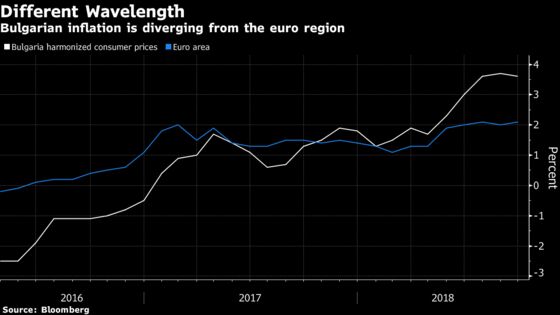 The European Union's poorest member state meets the other criteria to switch to the single currency, including low public debt and a small budget deficit. To enter the waiting room for the euro -- known as ERM-2 -- it's also agreed to join the bloc's banking union and carry out a health check of its financial sector.
Those steps are aimed at calming fears over Bulgarian lenders, which are attracting increased scrutiny following a string of money-laundering scandals elsewhere in the continent's east.
The European Central Bank, instrumental in the extra conditionality placed on Bulgaria, said in May that it has "serious concerns regarding the sustainability of inflation convergence" in the longer term because of wage growth and rapid economic expansion. The Finance Ministry raised this year's forecast for consumer-price growth to 2.7 percent this month, up from 1.8 percent in May, citing fuel prices and domestic demand.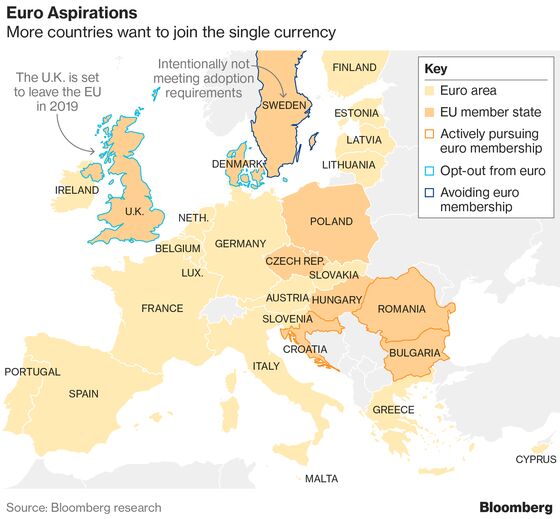 Euro adoption requires that Bulgaria's harmonized inflation is no more than 1.5 percentage points above the average of the three EU members with the lowest price growth over the past year. That reference value was 1.9 percent in March, when the ECB last published its Convergence Report.
"What's worrying is that inflation will probably exceed the government's forecast this year," Nikolova said.